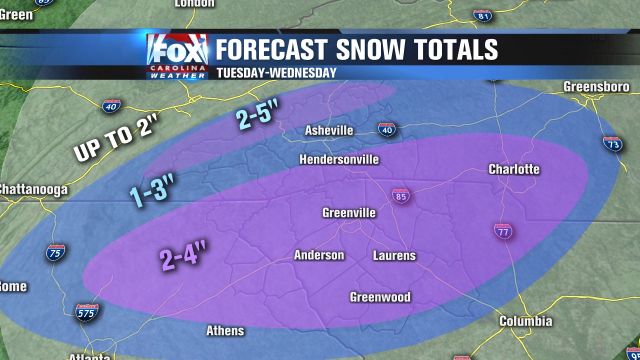 This system is quickly becoming one of the most pesky, challenging systems that we've seen so far this winter, and believe me, you're as frustrated hearing about the changes as we are forecasting! We look at computer models that typically come in every 6 hours, and so far, the last few model runs have all shown something a little different, making for a very difficult judge of the system. All in all, this is my forecast of what you can expect for the next few days:
Today: Isolated rain showers Upstate, isolated rain/snow mix in Western NC. No major issues with roads.
Tuesday: Scattered snow showers (generally south of I-85), and windy conditions from the NE 8-12 mph, gusting to 20. Start seeing slick conditions around sundown, and last until early Thursday.
Wednesday: Widespread snow & ice. Accumulations through the whole event look to be near 2-4" across the I-85 corridor, with less snow and more ice south of I-85. Mountain towns looking at between 3-6" of snow accumulation, with little ice.
Thursday: Freezing rain and sleet likely early across our region, with clearer skies and temps back in the 40s by the afternoon.

Power outages are being looked at as one of the main concerns with this system, probably seeing the most by late Wednesday. Slick roads will be an issue starting Tuesday night and lasting until around midday Thursday.