Teachers training to be first responders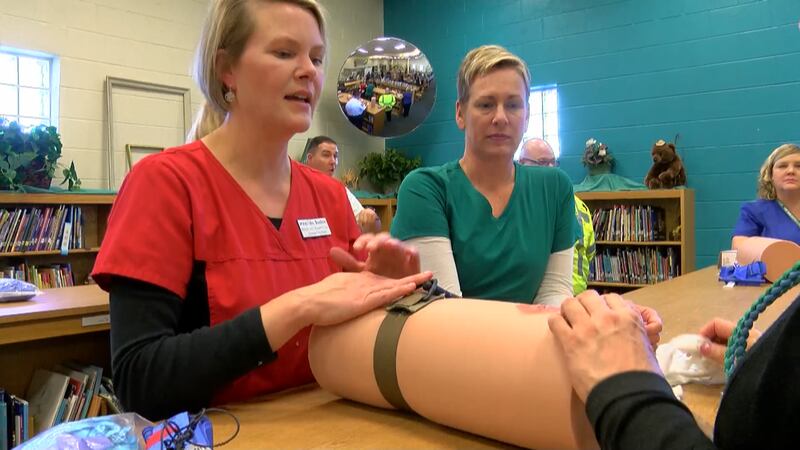 Published: Dec. 5, 2018 at 8:47 PM EST
CHARLESTON, SC (WCSC) - Schools across South Carolina are being trained on how to handle a tragedy.
So far in 2018 there have been over 300 mass shootings across the country, and teachers are learning the tools to save a life before emergency officials arrive.
A national program called Stop the Bleed teaches teachers how to stop the bleeding in the case of a mass casualty or trauma event.
The program gives a hand on approach to show teachers what they can do to stop mass bleeding before EMS arrives.
"There are situations in the community where people are dying from bleeding to death because they can't get the care they need in time. So while they're waiting for EMS to arrive they're possibly bleeding out and bleeding to death," said Regina Creech, the coordinator for Injury Prevention for MUSC and Stop the Bleed. "We just want everyone to have the knowledge in case they need it."
The State Department of Health and Environmental Control put Stop the Bleed kits in every school across South Carolina.
"DHEC went ahead, and after the South Carolina incident in Timmonsville, DHEC decided to put this grant in and extend this offer to all schools and get the bleeding control kit," said Evelyn Lotito, the risk manager for DD2.
Lotito said these sorts of trainings have to adapt to the current world we're living.
"What we have to do is recognize the differences that are happening in today's society and world and be prepared and proactive in our approach," Lotito said. "And we do so in empowering our faculty and staff and making sure they receive the training and tools and skills that are necessary to save lives."
DD2 trained 80 teachers on Wednesday and anticipates having every DD2 employee trained by the end of the school year.
Copyright 2018 WCSC. All rights reserved.