Coast Guard spouse collects items for Lowcounty Food Bank during government shutdown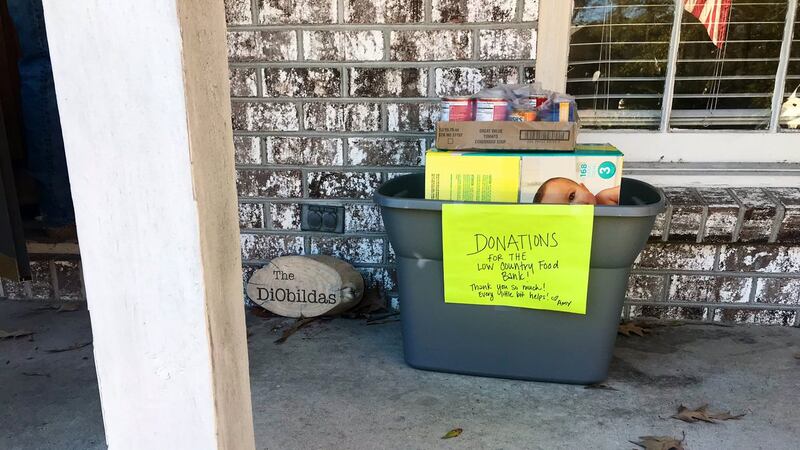 Published: Jan. 21, 2019 at 7:20 PM EST
WEST ASHLEY, SC (WCSC) - A West Ashley family impacted by the government shutdown is organizing efforts to donate items to the Lowcountry Food Bank.
Amy DiObilda's husband, Darren, is in the Coast Guard.
"They signed up and they are going to be loyal to their country," Amy said.
He's working without pay because of the government shutdown.
"You have to call creditors," Amy said."You have to call every single loan or bank that you used and say, 'Well maybe it's just not going to work this month, and can you help us out?'"
In the midst of not knowing when the next check will come, she's helping others.
Amy has organized a food drive.
She handed out letters to neighbors asking for donations for the Lowcountry Food Bank on Friday, she now has a trunk full.
"It's just one of those things people don't know when their next meal is coming. They don't know how they are going to be able to pay their mortgage and pay their electrical bills," Amy said.
Right now they're living on savings, but she says it won't last for much longer.
She started the food drive because she knows some people can't afford to eat.
"It's hurting people that are in our community in both ways. Not only the Coast Guard but federal employees. But when you think about someone like the Lowcountry Food Bank that gives to our community to begin with, then they have to feed more mouths," Amy said.
The Lowcountry Food Bank says it has had an increase in food demands.
The CEO says the government shutdown is increasing hardships and is also taking resources away from people who depend on the SNAP program.
Amy is collecting non-perishable food items. That includes things like canned goods, boxed meals, peanut butter, and more. She's also collecting diapers, wipes, baby food, paper products, juice, personal hygiene items, first aid kids and cleaning products.
"I think the best way to think about it, if you weren't getting paid for a month what would you think you might need," Amy said.
The Lowcountry Food Bank has announced food distribution sites for federal employees impacted by the government shutdown.
If you'd like to donate to Amy's drive you can contact her at (484) 889-6470.
Federal workers are encouraged to visit the pantries listed below, or the Lowcountry Food Bank located at 2864 Azalea Drive, North Charleston, SC 29405 to get shutdown relief boxes:
East Cooper Community Outreach:
Monday-Friday 10am-4pm (843)849-9220
1145 Six Mile Rd, Mount Pleasant, SC 29466
Cathedral of Praise Bread Basket:
Monday-Friday 9:45am-12pm (843) 760-6116
3790 Ashley Phosphate Rd, North Charleston, SC 29418
Helping Hands of Goose Creek:
Monday-Friday 9am-11:30am (843)533-7132
104 B Commerce Place, Goose Creek, SC 29455
The Lowcountry Food Bank is also accepting monetary donations that will be specifically designated to help federal workers fight hunger during the partial government shutdown.
You can make a financial donation here.
Copyright 2019 WCSC. All rights reserved.