Gov. McMaster, dozens of SC leaders meeting in Charleston to talk about flooding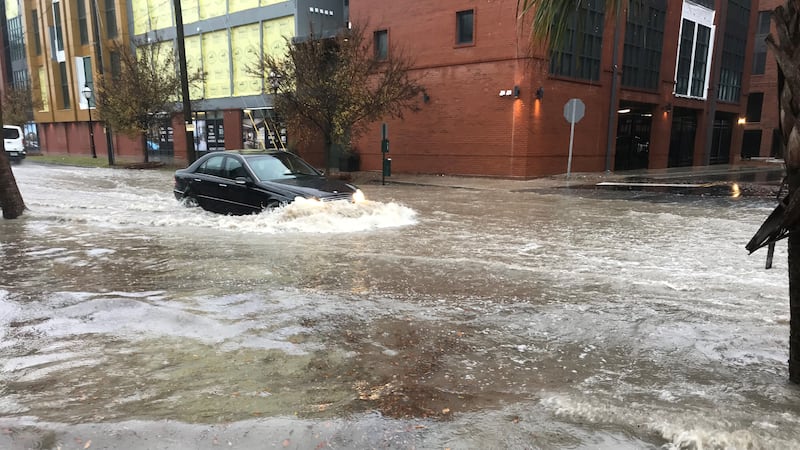 Updated: Feb. 8, 2019 at 12:58 PM EST
CHARLESTON, SC (WCSC) - Governor Henry McMaster and dozens of leaders in South Carolina will be meeting on Friday to discuss flooding concerns.
It'll be the first working meeting of the South Carolina Floodwater Commission, and it'll be at Founders Hall in West Ashley.
It's an initiative of the governor who said he wants to figure out the best response and the best way forward when dealing with flooding.
"How do we make water our friend," McMaster asked. "How do we accommodate it? How do we use it? We can't fight it because it's everywhere, and it's with us forever."
The commission is aimed at identifying and implementing both short-term and long-term recommendations to tackle flooding.
The governor called on more than 50 leaders on the local, state, and federal level to join the commission, including officials at the state's department of transportation and the department of natural resources.
Georgetown's Mayor, Brendon Barber, has seen major flooding firsthand and is one of the members on the commission. "It's the most progressive initiative to address flooding in the state," Barber said. "I hope we can mitigate and create protective measures to protect lives and property."
Rep. Joe Cunningham is also on the commission but won't be able to make it because of votes in Washington, D.C.
"Congressman Cunningham looks forward to working alongside local leaders to come up with real solutions to address the flooding crisis in the Lowcountry," said Rebecca Drago, his spokesperson. "He will do whatever he can to make sure the necessary federal funding is allocated for flooding solutions."
Other Lowcountry leaders will also be in attendance such as Charleston County Councilman Victor Rawl and Charleston Mayor John Tecklenburg.
"If one city isn't doing a good job in managing water and you're upstream from another city who might be, you're compounding someone else's problem," Tecklenburg said. "That's why it's important for us all to get on the same page about the importance of managing water."
This meeting is the first of four this year. The next is in June at Paris Mountain State Park in Greenville. The third is in August at Cheraw State Park in Cheraw. The fourth is in November at Greenwood State Park in Ninety Six.
Copyright 2019 WCSC. All rights reserved.