Rappellers fundraise for Trident United Way reading program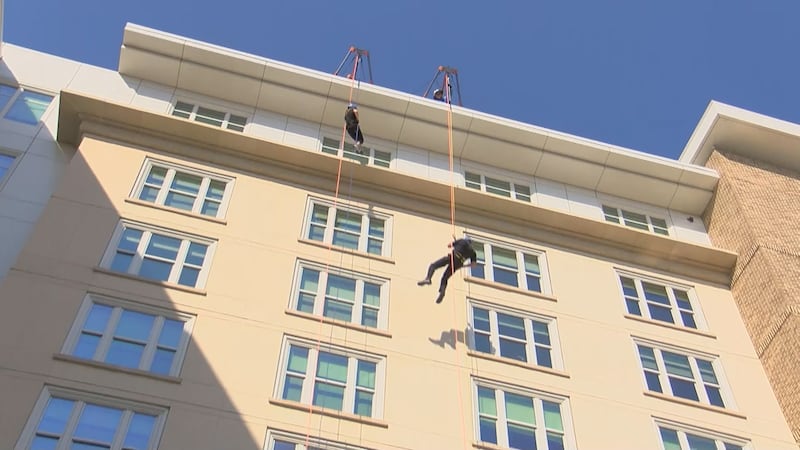 Published: May. 18, 2019 at 9:21 AM EDT
CHARLESTON, S.C. (WCSC) - Trident United Way is hosting a fundraising event for the Tri-County Reading by Third Project on Saturday.
The organization has challenged several people to go 'Over the Edge' and rappel down the nine-story Hyatt Place hotel in downtown Charleston.
The first rappel begins at 9:30 a.m. and the last one is at 12:30 p.m.
Trident United ways says nearly half of all students in the Tri-County area are not reading on grade level by the end of third grade. Reading at grade level by the end of third grade is critical to success in school, as the focus shifts from learning to read to reading to learn.
The Tri-County Reading by Third Project is a three-year partnership between Trident United Way and all four local school districts to provide innovative teacher training and support. Trident United Way has committed up to $1.5 million to the project. They say they need donors to make that happen, according to a news release.
Some of the people who have rappelled include the following:
Amanda Cunningham -Congressman Joe Cunningham's wife

Luther T. Reynolds - Charleston Police Chief

Kate Hooray Osmond - A local artist

Gary "G-Man" Goldman - The Kelly Golden Show, iHeart RADIO

Christian Senger - Holy City Sinner
Participants who are rappelling have been asked to raise $1,000.
Spectators are welcome to cheer on the 'edgers.'
Copyright 2019 WCSC. All rights reserved.