FIRST ALERT: Dorian strengthens to Category 2 hurricane late Thursday night; could bring heavy rainfall to southeast
Updated: Aug. 30, 2019 at 12:06 AM EDT
CHARLESTON, S.C. (WCSC) - Dorian strengthened to a Category 2 hurricane with now 105 mph winds late Thursday night.
The late night forecast track has not changed dramatically from this past day's models as it's expected to intensify further before traveling towards central Florida on Labor Day.
The forecast for Friday shows the storm strengthening into a Category 3 hurricane, and by Saturday morning intensifying to a Category 4 hurricane with 130 mph winds.
It's projected to have 140 mph winds on Sunday based on forecasted intensity projections.
"The bottom line tonight is we have a stronger storm that looks like it's going to slow down with steering currents which are very weak which will be a problem for the entire Florida Peninsula," said Live 5 Chief Meteorologist Bill Walsh. "But where it goes after that remains the question."
Thursday night's model track show that once the storm gets to Florida it curves to southeast Georgia and off the South Carolina coast bringing those areas a tremendous amount of rain.
"Everyone across the southeast United States including the Lowcountry should monitor the progress of Dorian," Walsh said late Thursday night.
Forecasters say swells are likely to begin affecting the east-facing shores of the Bahamas and the southeastern United States coast during the next few days.
These swells are likely to cause life-threatening surf and rip current conditions as Dorian makes a slow approach to the US mainland.
A slower storm means a turn to the north might be a little bit viable as the ridge to the north starts to erode, a ridge which is a very integral factor where Dorian ends up going.
A stronger ridge will drive the storm further to the south.
However, a weaker ridge will open up a couple of scenarios including driving Dorian out to sea or up the east coast of Florida which would affect South Carolina.
If the ridge to the north maintains its power, Dorian will be pushed further west.
The current models are in consensus for the first 72 hours of a track towards central Florida, but where exactly it makes a turn north is uncertain.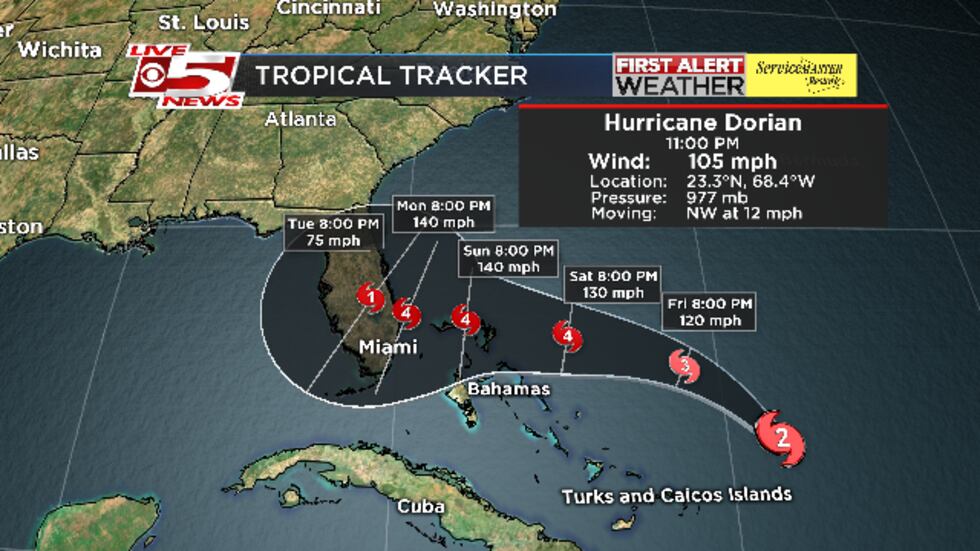 At 11:00 p.m. , the center of Hurricane Dorian was located near latitude 23.3 North, longitude 68.4 West.
Dorian is moving toward the northwest near 12 mph (19 km/h), and this general motion is expected to continue through Friday.
"A west-northwestward to westward motion is forecast to begin by Friday night and continue into the weekend," NHC officials said."On this track, Dorian should move over the Atlantic well east of the southeastern and central Bahamas tonight and on Friday, approach the northwestern Bahamas Saturday, and move near or over portions of the northwest Bahamas on Sunday."
Maximum sustained winds have increased to near 105 mph (165 km/h) with higher gusts.
Forecasters say Dorian is expected to become a major hurricane on Friday and remain an extremely dangerous hurricane through the weekend. Hurricane-force winds extend outward up to 25 miles (35 km) from the center, and tropical-storm-force winds extend outward up to 105 miles (165 km).
"The risk of devastating hurricane-force winds along the Florida east coast and peninsula late this weekend and early next week continues to increase, although it is too soon to determine where the strongest winds will occur," NHC officials said.
Forecasters say regardless of the exact track of Dorian, heavy rains are expected to occur over portions of the Bahamas, Florida, and elsewhere in the southeastern United States this weekend and into the middle of next week.
Copyright 2019 WCSC. All rights reserved.