2 wounded in early-morning shooting at South Carolina State University
Updated: Sep. 20, 2019 at 12:13 PM EDT
ORANGEBURG, S.C. (WCSC) - Officials with South Carolina State University confirmed two people were wounded early Friday morning in a shooting on campus.
SCSU President James Clark said campus police were notified about shots fired near the K Building of Hugine Suites, an on-campus housing facility at around midnight Friday.
"When police arrived on the scene, they found two females who had sustained gunshot wounds in their legs," he said. EMS immediately took the victims to Orangeburg Regional Medical Center for treatment of non-life threatening injuries, he said.
Police immediately placed the campus on lockdown, he said.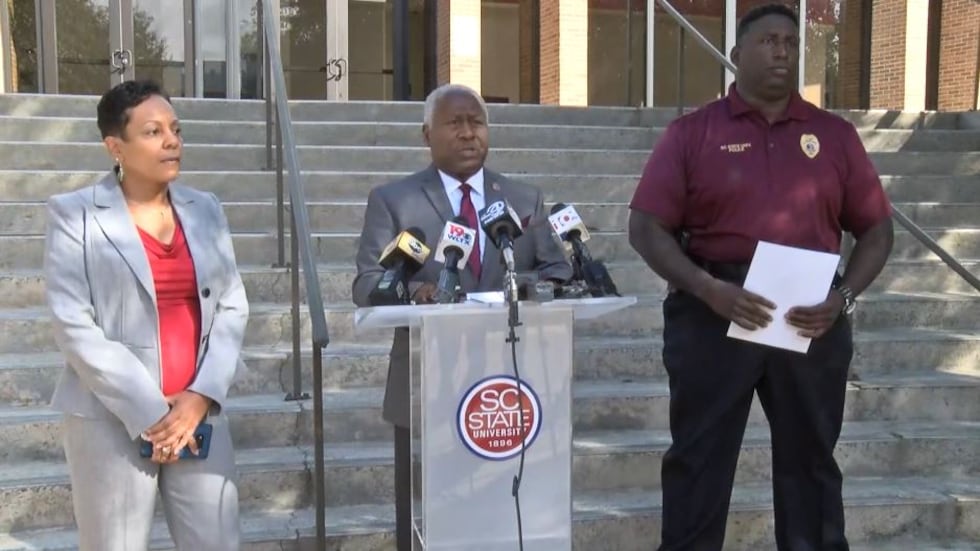 One of the women who was shot was a student, Clark said. He did not provide any further details about the second victim.
Witnesses told investigators some kind of argument or fight happened off-campus between multiple people. Those people then came onto the SCSU campus, he said. Police are working to identify the gunman and determine whether they have any connection to the university, Clark said.
A student who says she was wounded said it began as an argument between two males that led to shots being fired.
Clark said she spoke with the student who was wounded.
"As you can well imagine, she is emotionally shaken but is recovering," he said. "And I can say is very upbeat and in very high spirits."
The student, who did not want to be identified, said she was with her friends and heard multiple gunshots and students began to run away from the area. She said she was wounded in the leg while running toward a courtyard.
Police said shortly before 8 a.m. that the lockdown had been lifted.
Students received an email from the school at 2:33 a.m. instructing them to shelter in place because of the shooting. A subsequent email sent about 12 minutes later advised students to avoid that area until further notice.
Clark said the school conducts safety checks frequently and they are not always announced to ensure there is nothing untoward happening on campus.
"And if anything is found, if anyone is found with a weapon of any sort, they're expelled right then and there on the spot," he said.
Clark said there were no changes planned for the university's safety policies because everything that is in place worked, including the fact that campus police officers responded in a minute or less.
"Gun violence is happening all over the nation," he said. "People are shot in synagogues, they're shot in churches, they're shot at stores, they're shot in schools, they're shot everywhere. So we take everything that is happening in the nation as part of what we do for safety here."
Anyone with information should contact Campus Safety at 803-536-7188.
This is a developing story. Check back for updates.
Copyright 2019 WCSC. All rights reserved.