Tecklenburg, Seekings face off on issues in mayor's race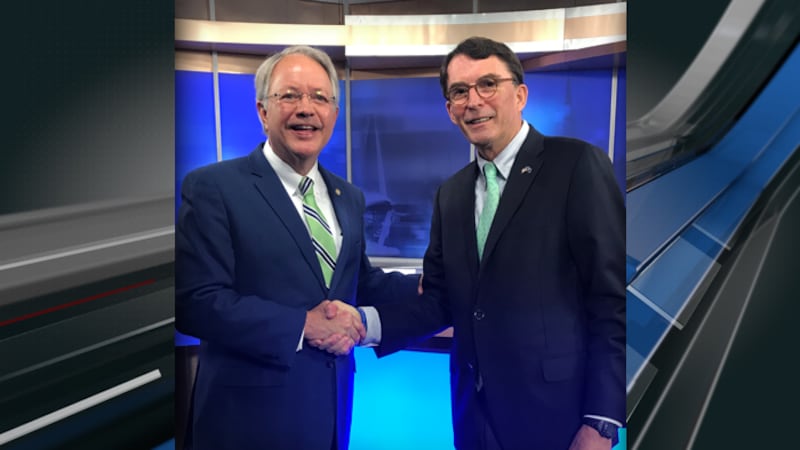 Updated: Nov. 18, 2019 at 8:20 PM EST
CHARLESTON, S.C. (WCSC) - The two men fighting for votes in the Charleston mayor's race answered questions Monday night, the day before the runoff election.
Mayor John Tecklenburg and City Councilman Mike Seekings both hope to be the next mayor of the Holy City.
The two appeared and answered questions Monday night on Live 5 News.
On Election Day, Tecklenburg brought in 48 percent (12,529) votes while Seekings brought in 34 percent (8,975). Because neither candidate reached the total of 50% plus one additional vote, a runoff was required. That runoff election happens Tuesday.
Tecklenburg hopes to win a second term in office while Seekings is fighting to become Charleston's third mayor in the past 45 years.
Key issues in the race have included flooding, traffic and transportation and growth and development.
Prior to the election, each candidate was asked what differentiated him from the others.
"My track record is filled with consensus-building and delivering results, whether in my Council district or regional transportation projects," Seekings said. "Charleston needs a serious leader who gets the job when the challenges are the biggest."
"Well, to start, I have four years of experience as Mayor, and, humbly, I believe I've done a good job," Tecklenburg said. "I obviously had some pretty big shoes to fill, and I'm proud of the high marks we've received for improving and managing the city. Beyond my experience in office, I have a clear vision for One Charleston that works for and with each citizen to improve our quality of life. While some of those running for Mayor have chosen to embrace a negative outlook on our future, I truly believe that our best days are ahead."
In a press release the day after the election, Seekings said one thing he and the Mayor both agree on is that there should be an open conversation about "the issues."
"It's time to get serious about traffic, overdevelopment and flooding. In order to do that, we need a leader with serious proposals and funding strategies. That is why a majority of Charlestonians voted for a new direction in leadership yesterday, and that is what our campaign is about," Seekings said.
Tecklenburg held a press conference outside his West Ashley home, saying that he and his wife fully support the 526 completion project.
Citing quotes from Seekings that Tecklenburg said he read Wednesday morning, the mayor disputed Seekings' claims about the I-526 project as well as a moratorium on hotels.
Tecklenburg said he read a quote in which Seekings claimed to be "the only candidate in this race who has ever voted to support 526."
Tecklenburg said he personally went to Columbia on numerous occasions in support of completing the interstate.
"And in fact, it was at a time when the chips were down for this project, and the [State Infrastructure Bank] Board had cut funding off for the completion of 526," Tecklenburg said. "I helped to keep the project alive."
Tecklenburg said he went back to notes from a Charleston City Council meeting from April 26, 2016, during which council issued a resolution supporting the completion of I-526. Tecklenburg said he hoped for a unanimous vote in support of the resolution, but said two council members voted against it. Seekings, he said, was one of them.
But Seekings said the resolution he voted against regarding I-526 was about funding the project, not completing the interstate.
"At that point in 2016, when we had issues in the city with the infrastructure and flooding, we had to have a comprehensive plan for flooding, and that's why I voted the way I did on the resolution," he said. "We don't need bake sales for funding we need to comprehensively look around and get monies in the right place at the right time so my one vote on that for 526 is on the record like all my others."
Seekings has also denied claims that his campaign has had anything to do with mailings Tecklenburg alleged were funded by dark money.
Polls for the runoff election Tuesday will open at 7 a.m. and close at 7 p.m.
In addition to the mayor's race, a runoff is also being held for Charleston City Council District 3, with incumbent James Lewis, Jr. and Jason Sakran facing off for that seat.
Copyright 2019 WCSC. All rights reserved.