Legendary S.C. high school football coach John McKissick passes away
Updated: Nov. 28, 2019 at 11:29 PM EST
CHARLESTON, S.C. (WCSC) - Retired Summerville High School Football Coach John McKissick, who holds the record for the most wins of any football coach at any level, died Thursday morning at 93.
He passed away at his home at 10:45 a.m. and was surrounded by family, according to Dorchester County Coroner Paul Brouthers. McKissick had been under hospice care, Brouthers said.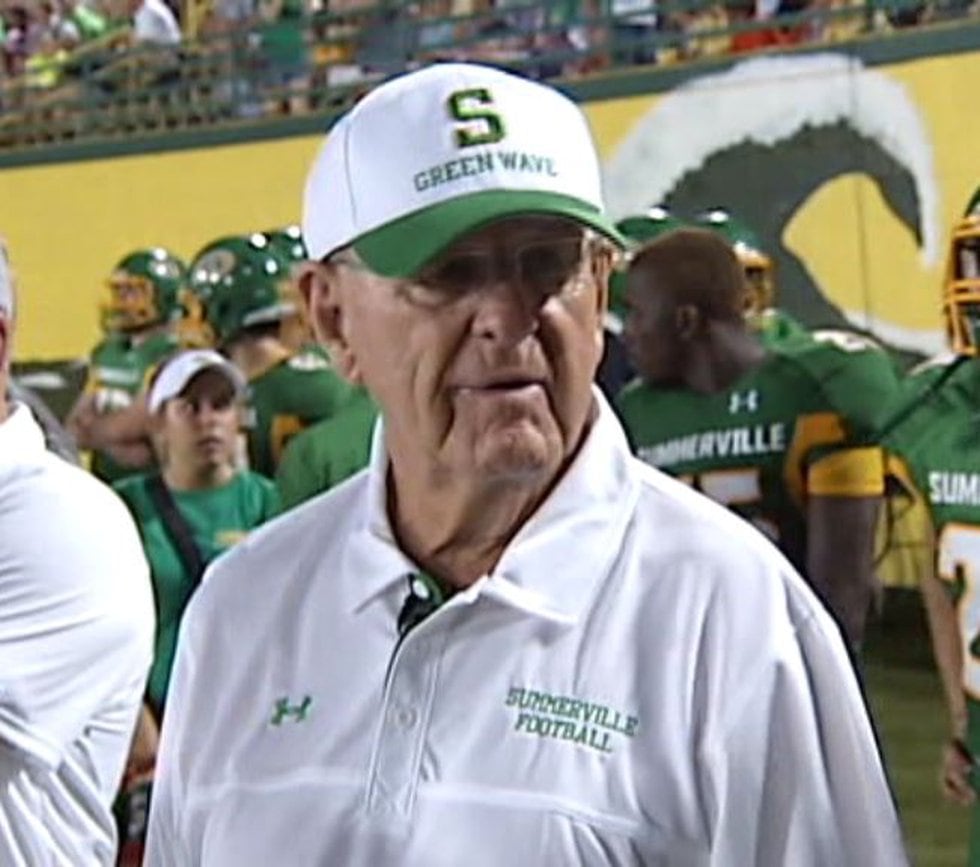 When McKissick first took over as the head football coach at Summerville High School, no one could have predicted that it would be the beginning of one of the most historic coaching runs in the sport's history.
Former players who McKissick coached and former colleagues who worked under him paid tribute to their former leader Thursday.
"He was an inspiration to everyone who had the opportunity to play for him," USC Gamecocks Tight End and Summerville High School alum Chandler Ferrell said. "He did a lot for me and for Summerville High School and we are gonna miss him like crazy."
"Coach left a legacy in the town of Summerville," Fort Dorchester High School Coach Steve LaPrad, who worked as an assistant under McKissick, said. "His influence due to the succeess of the football program on Summerville High School will never be equaled. The town of Summerville just lost a cornerstone. His record on and off the field will never be matched by any other coach."
McKissick was born in September of 1926 in Greenwood, SC. He would go to Kingstree High School before graduating and heading to Brevard College. After a short stint in the Army, he would return to school at Presbyterian where he graduated in 1951 with a degree in economics.
A year later, he arrived at Summerville to lead the Green Wave, and success was something he and his team found early and often.
Three years after his arrival, he'd win his first state championship. And followed that up with another the next season. It would be the start of a run that saw McKissick win at least one state title in each of his first five decades.
Region titles were almost common place at Summerville under McKissick. In 37 times in his 63 years with the Green Wave, the team won at least a share of the region championship.
Perhaps even more impressive than the amount of winning McKissick did, was the lack of losing his teams would experience. Only twice in 63 years, 1957 and 2001, did a Summerville team end the season with a record under .500. By comparison, there were five times when his team would finish the season without a loss.
More state titles would come; 1969, back to back in 1978 and 79, then his most successful run with four titles in the 80′s including a three-peat from 1982-1984 and again in 1986.
Once McKissick reached the 1990s, that's when the career milestones started to come. In 1993, he would win his 406th career game. Making him the all-time winningest head coach on any level of organized football. That win brought the coach and the school national recognition. But for McKissick, it was just the next win.
After what turned out to be his final state title in 1998, McKissick's next career defining win came in 2003 when he became the first coach to win 500 games. Nine years later, his 600th win came against one of his former assistants beating Kenny Walker and Ashley Ridge.
The recognition he's been awarded over six decades have been almost countless. Three times McKissick has been named the national high school coach of the year. He's also a member of the South Carolina Athletic Hall of Fame, the South Carolina football coaches association hall of fame, the South Carolina hall of fame and the national high school hall of fame.
Along the way, McKissick has coached thousands of kids in his time in Summerville. Some have gone on to fame in the NFL like Stanford Jennings or AJ Green. But maybe the most important number to the legend would be three. The number of his grandsons he's gotten to coach with the Green Wave; Richard and Joe Call and Donny McElveen.
McKissick leaves behind a legacy that will never be matched. Not just of winning games on the field but for helping to build a community off it and making sure the kids he coached became a successful part of it.
McKissick's grandson, Joe Call, who took over the head coach job at Summerville High School following his grandfather's retirement, released a statement Thursday night:
"A lot of people have been asking about my Grandma and how she's doing. Please let everyone know she is doing well and is very thankful for the prayers and condolences from everyone who has reached out. She has been surrounded by her family today and she even insisted on having our Thanksgiving Day dinner together."
EDITOR'S NOTE: There have been conflicting accounts about McKissick's age. An initial release from the Dorchester County Coroner's Office listed his age as 90 and a subsequent release listed it as 95. However, other sources list his birthdate as Sept. 25, 1926, which would have made him 93 years old. Multiple outlets reported his age at the time of his retirement in the summer of 2015 to be 88, which would be consistent with that birthdate.
Copyright 2019 WCSC. All rights reserved.