Gov. McMaster holds news conference on COVID-19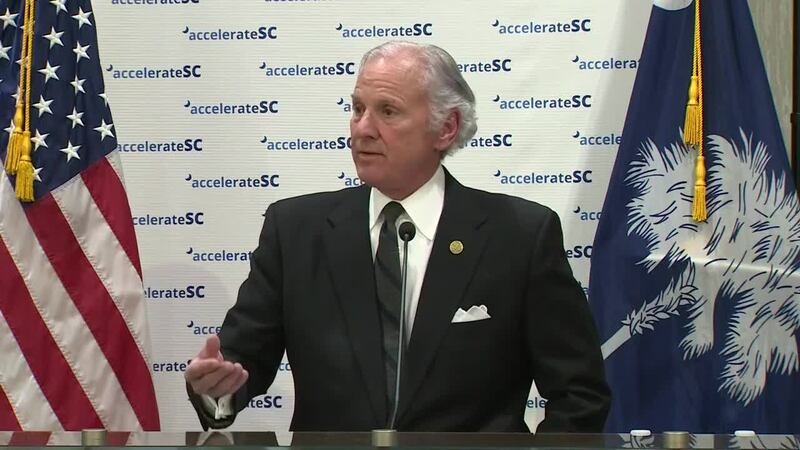 Updated: May. 6, 2020 at 2:25 PM EDT
COLUMBIA, S.C. (WCSC) - Gov. Henry McMaster and state health officials held a news conference Wednesday afternoon on the state's fight against COVID-19.
State health officials announced that they will test residents and staff members at every nursing home in South Carolina for COVID-19.
Officials with the Department of Health and Environmental Control said beginning next week they will begin a phased testing approach to include approximately 40,000 residents and staff members at the 194 nursing homes in the state.
You can watch the whole press conference below or click here.
McMaster reopened restaurants for outdoor dining on Monday, while also lifting the state's mandatory 'home or work' order. He said on Tuesday that he hopes to announce soon when barber shops and dine-in restaurants can reopen.
But it is not clear when he intends to make that announcement during Wednesday's news conference or whether he will say when close-contact businesses like hair salons, barbershops and gyms will be allowed to reopen to customers.
As South Carolina continues reopening from the coronavirus, the state's peak of cases has been pushed further into the future with hundreds of additional deaths predicted. The new prediction is for more than 1,100 deaths by early August from COVID-19. Less than two weeks ago, state health officials predicted fewer than 700 deaths by early August.
Meanwhile, health officials are trying to expand testing, especially in areas with more African Americans who represent 27% of the state's population but 53% of the COVID-19 deaths.
Copyright 2020 WCSC. The Associated Press contributed to this report. All rights reserved.