Survey team will respond to Johns Island, Wadmalaw Island to determine if damage caused by tornado
Updated: May. 20, 2020 at 7:16 PM EDT
CHARLESTON, S.C. (WCSC) - Officials with National Weather Service Charleston say a team will respond to Johns Island and Wadmalaw Island to determine if damage from Wednesday's storm was caused by a tornado.
Officials say the survey team is expected to go out to the affected areas on Thursday.
Pictures sent in by viewers showed fallen trees and damage to vehicles on Chisolm Road on Johns Island.
Kate Pleasants captured pictures on Chisolm Road of downed trees along with a picture of a tree that damaged a vehicle. According to Pleasants, a tree missed a shop, but crushed a truck right next to it.
NWS officials also confirmed downed trees on Maybank Highway on Wadmalaw Island.
In addition, to the damage, viewers also reported lighting strikes on Johns Island with a few viewers capturing the strikes during the storm.
Viewer Caiti Hanlon sent doorbell camera video of a lightning strike Wednesday on Johns Island.
Amy Binau also out on Johns Island captured this video of a lightning strike in her backyard.
Wednesday's storm also flooded several Lowcountry streets especially in the downtown Charleston area.
A severe thunderstorm warning for Charleston County expired at 2:15 p.m. after strong storms moved through the Lowcountry.
A flood advisory was in effect for portions of Charleston and Berkeley Countes and expired Wednesday afternoon.
Earlier, at 1:13 p.m., just minutes before the warning was set to end, severe thunderstorms were located along a line extending from Mount Pleasant Regional Airport to near Sullivan's Island, moving west at 35 mph.
The storm was capable of producing 60 mph wind gusts and quarter-size hail.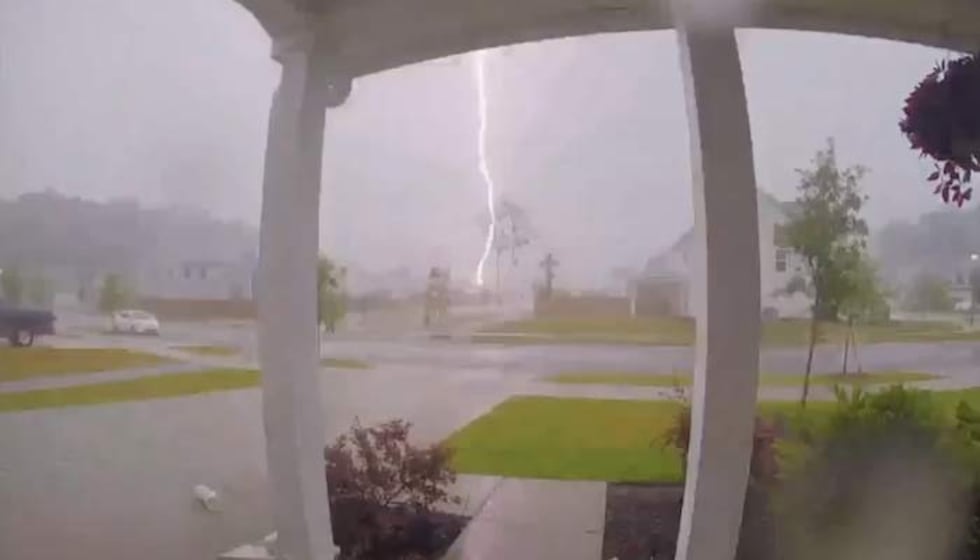 Copyright 2020 WCSC. All rights reserved.