'I lost a few friends that day': 9/11 first responders remember terror attacks during Darlington ceremony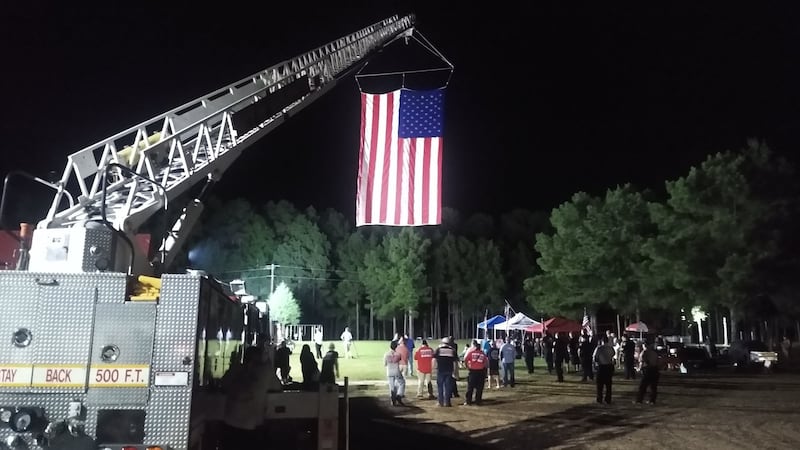 Updated: Sep. 11, 2020 at 10:17 AM EDT
DARLINGTON, S.C. (WMBF) – The city of Darlington took time Thursday night to remember the terror attacks that rocked our country nearly two decades ago.
A fire truck raised a massive American flag off Pearl Street, as people came to honor the heroes and remember the thousands of people who lost their lives during the September 11th attacks.
"Tonight, we have two speakers that stay with us in this area, the attack was in New York, but in our beautiful town of Darlington, we have two people among us that were there that night," Darlington Mayor Curtis Boyd said.
John Gutierrez, an investigator with the Darlington Police Department, is a former NYPD officer and responded after a plane hit one of the two Twin Towers.
"As I approached the towers, I had a female approach me hysterical crying, and told me her husband worked in the towers on the upper floors of the building. She collapsed into my arms and I carried her to an ambulance," Gutierrez said.
He remembered the moments that the first building collapsed.
"The first building fell and all I could describe it as was the sound of twisting and cracking, then the building started to fall, and I ran as fast as I could. All I could think was I had to get to Isabella," Gutierrez remembered.
Meanwhile, thousands of miles away, a plane had flown into the Pentagon. Darlington Fire Department Chaplain Frank Stoda was one of the first responders at the scene.
"When we got to the Pentagon, the flames were still burning furiously, and we started to set up our base of operation."
And even though it's been nearly two decades since that infamous day, the memories remain fresh for those who risked their lives for others.
"To this day, 19 years later, I still will have a flashback occasionally," Stoda said.
"I lost a few friends that day and I continue to lose people because the illnesses continue to get to us," Gutierrez said emotionally. "If I could ask one thing of everyone, it would be to never forget."
Copyright 2020 WMBF. All rights reserved.