Graham donates $500K to Trump legal defense over voting counts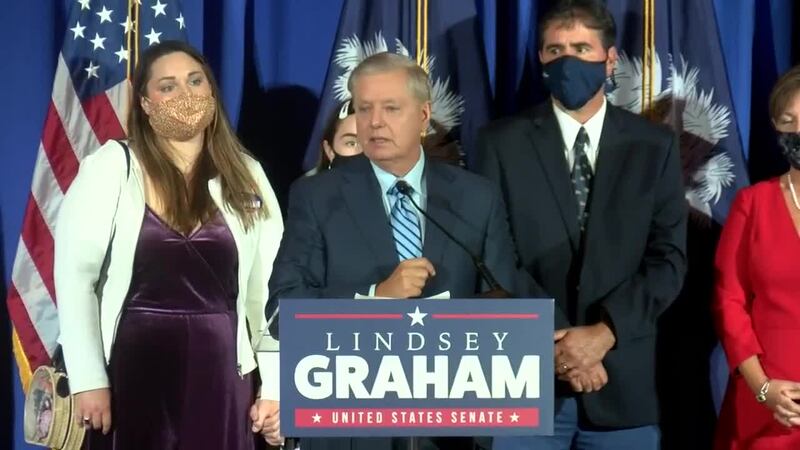 Updated: Nov. 6, 2020 at 9:26 AM EST
CHARLESTON, S.C. (WCSC/AP) - Sen. Lindsey Graham, who just won reelection in Tuesday's election, said he is donating a half-million dollars to President Donald Trump's legal defense fund.
In a message on his Facebook page, the senator wrote, "Let's stand with President Trump. He stood for us."
Graham said would donate the money Thursday night so "we will have the resources to fight."
During an appearance on Fox News Thursday night, Graham told Sean Hannity about the donation to fight allegations of wrongdoing that he called "earth-shattering."
"I'm here tonight to stand with President Trump. He stood with me. He's the reason we're going to have a Senate Majority," Graham said. "He helped Senate Republicans we're going to pick up house seats, because of the campaign that President Trump won."
Graham also said his win was "overwhelming" despite media polls that him in a much closer race with Harrison.
"Mainstream media polling is designed to suppress Republican votes," he alleged. "It's the game they play with their polling to depress the Republican vote."
Polls consistently predicted Trump would easily win South Carolina. The race for the presidency in the Palmetto State was called for Trump early on Tuesday night.
But in several battleground states, the race remained too close to call.
Trump's campaign engaged in a flurry of legal activity to try to improve the Republican president's chances, saying it would seek a recount in Wisconsin and filing lawsuits in Pennsylvania, Michigan and Georgia.
Judges in Georgia and Michigan dismissed Trump campaign lawsuits in those states Thursday, when Trump still held a small edge in Georgia — though Biden was gaining on him as votes continued to be counted. The same was true in Pennsylvania, where Trump's lead had slipped to about 18,000 votes — and the race appears destined to get tighter.
Some of the Trump team's lawsuits only demand better access for campaign observers to locations where ballots are being processed and counted. A judge in Georgia dismissed the campaign's suit there less than 12 hours after it was filed. And a Michigan judge dismissed a Trump lawsuit over whether enough GOP challengers had access to handling of absentee ballots
Copyright 2020 WCSC. The Associated Press contributed to this report. All rights reserved.