'This will not be a fast process': McMaster discusses COVID-19 vaccine distribution plan in S.C.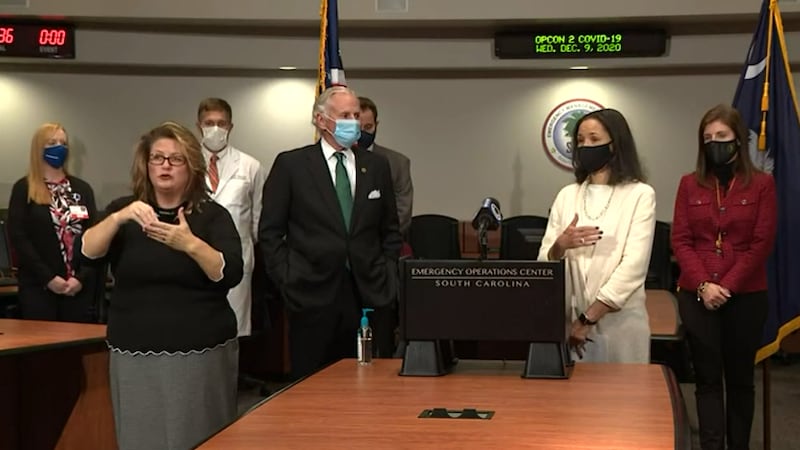 Updated: Dec. 9, 2020 at 4:32 PM EST
COLUMBIA, S.C. (WMBF) – South Carolina Gov. Henry McMaster urged residents to continue practicing social distancing and wearing masks while discussing the plans for distributing a COVID-19 vaccine.
FORGING AHEAD | WMBF's investigative series into S.C.'s COVID-19 vaccine distribution plan
His remarks come a day before the U.S. Food and Drug Administration could authorize the use of a Pfizer vaccine that has already started being administered in Great Britain, and as COVID-19 cases continue to surge in S.C.
"Now is not the time to let our guard down," McMaster said.
If approved, officials with the S.C. Department of Health and Environmental Control said the state is expected to receive between 200,000 and 300,000 initial doses possibly between Dec. 14 and Dec. 16.
"This will not be a fast process. I want to caution everyone, this will be a slow process," McMaster said Wednesday about the vaccine distribution.
The governor discussed the phases of the vaccine rollout. He said those inoculated in Phase 1A will be workers and individuals in healthcare settings that are at the highest rate of catching COVID-19. That includes: physicians; nurses; physical therapists; speech pathologists; medical and nursing students; nursing home and long-term care facility residents and staff; first responders like EMTs, paramedics, firefighters and law enforcement who have face-to-face contact with possible coronavirus patients; and home health and hospice workers.
According to McMaster, those in Phase 1B include: remaining first responders; utility workers; waste removal employees; bus drivers; agribusiness and food production workers; people who live or work in group homes, homeless shelters, correctional facilities, jails and detention centers; people aged 75 or over; and individuals with two or more medical conditions: cancer not in remission, chronic kidney disease, COPD, heart disease, HIV/AIDS, diabetes and pregnancy, among others.
The governor said those in Phase 2 include: pharmacists; grocery store employees; service industry workers; postal workers; public works; instructors in kindergarten through 12th grade; and instructors and staff at higher education universities.
According to McMaster, the final phase will be the general population.
"What we have to remember is this is going to be a slow process," he said.
State health officials mirrored McMaster's remarks in calling on South Carolinians to continue mitigation measures throughout the vaccination process.
"We are not near the end of this," said Dr. Linda Bell with DHEC.
Bell noted that 35 of the state's 46 counties were in a downward trajectory for COVID-19 spread a month ago. Currently, only six are trending downward and last week was the worst week since the start of the pandemic, with more than 13,900 cases registered, she said.
As of Wednesday, South Carolina has registered 223,140 COVID-19 cases and 4,280 confirmed deaths.
"If we are able to implement 95% use of masks within the next week, by April we could avert 1,000 deaths," Bell said. "Within four to six weeks of this level of mask usage, we would see a significant change in our trajectory."
Copyright 2020 WMBF. All rights reserved.