WHAT TO KNOW: Those in S.C. 70 and older can schedule COVID-19 vaccine appointments Wednesday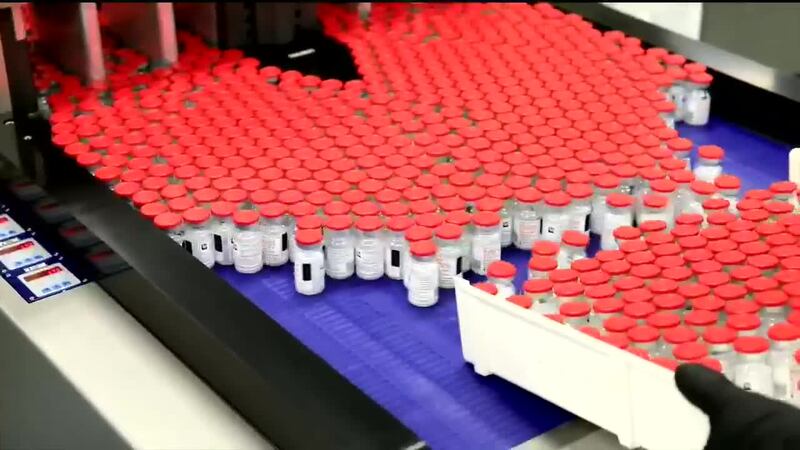 Updated: Jan. 12, 2021 at 12:19 PM EST
MYRTLE BEACH, S.C. (WMBF) – South Carolina Gov. Henry McMaster and the state Department of Health and Environmental Control are working to speed up the distribution of the COVID-19 vaccine in the Palmetto State.
Starting Wednesday, Jan. 13, those in S.C. aged 70 and older can start making appointments to get the vaccine, DHEC announced on Monday.
FIND A LOCATION | Interactive map showing which hospitals are taking appointments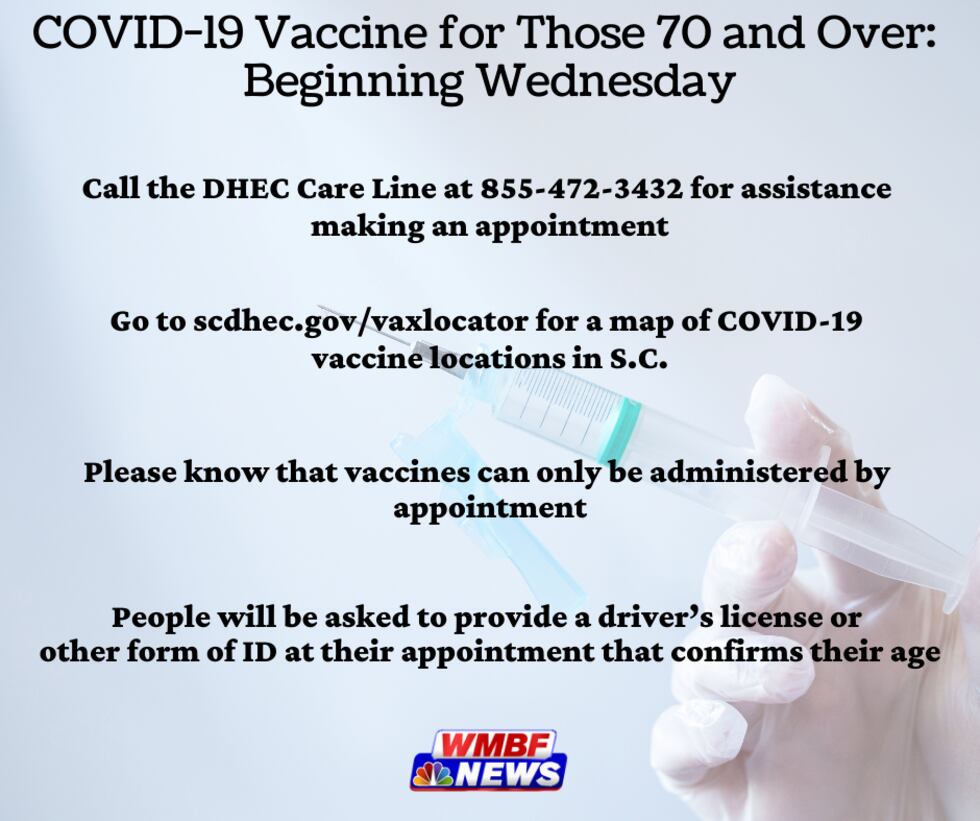 Health officials stress that those who are eligible must schedule an appointment. They cannot simply walk into their doctor's office or a hospital and request the vaccine.
FORGING AHEAD | WMBF investigates South Carolina's vaccine distribution process
Here is what those 70 and older need to know before scheduling their appointment:
How do I get my vaccine?
DHEC officials said the COVID-19 vaccine can only be administered by appointment. People cannot simply walk into a health care facility and ask for the vaccine.
How do I schedule an appointment?
Individuals can call the DHEC Care Line at (855) 472-3432 for assistance with scheduling an appointment beginning Wednesday. An online map showing where vaccine locations can be found across the state will also go live on Jan. 13 and can be accessed here. That map was available on Monday, but by late afternoon it had been taken down According to DHEC, the reason for that was facilities were receiving calls whether they were marked as "red" or "green" status.
State health officials said the appointment scheduling phone line for each location may operate different hours of the day and isn't determined by DHEC. Like other states, S.C. currently has a limited supply of the COVID-19 vaccine. Some locations that offer it may not have an appointment available for several weeks depending on their supply.
Do I need to bring an ID?
Yes. People will be asked to provide a driver's license or other form of ID at their appointment that confirms their age and, therefore, their eligibility to receive the vaccine.
If I'm only a part-time S.C. resident, can I get the vaccine?
Non-permanent residents who are living in South Carolina at the time when they would be eligible to receive a vaccine can be vaccinated here. Currently there isn't a need for proof of residency in order to receive the vaccine.
Below is additional information from DHEC on the vaccine rollout:
· As long-term care facility residents and staff continue to receive their Moderna vaccine through the federal Long-Term Care program, the state can soon redirect some Moderna vaccine from that program and make it available to others
· The Pfizer-BioNTech vaccine requires two shots separated by 21 days. The Moderna vaccine requires two shots separated by 28 days. You need to receive both shots of the same product; vaccine brands are not interchangeable.
· Both shots are needed for complete protection against COVID-19. After receiving both shots, the Pfizer-BioNTech and Moderna vaccines are 94-95 percent effective in preventing disease.
· Individuals will receive a vaccine card after receiving their first shot, reminding them when their second shot is due. Most providers are also issuing second-dose appointment reminders to patients by way of phone calls, emails or text messages. People are encouraged to schedule their second shot as soon as they can. It's important they choose the same brand of vaccine to ensure they are fully vaccinated against COVID-19.
Copyright 2021 WMBF. All rights reserved.