Bestselling author, Mary Kay Andrews, helps solve real-life mystery
After making a surprising discovery in a Tybee Island home she began a deeper search for answers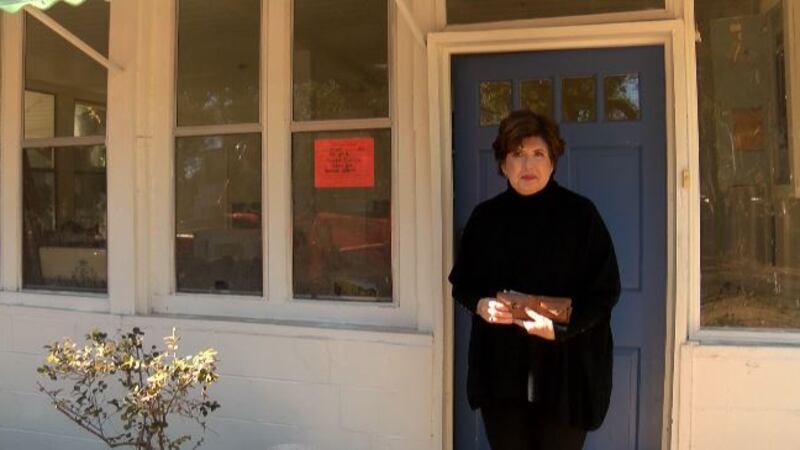 Updated: Feb. 4, 2021 at 1:14 PM EST
TYBEE ISLAND, Ga. (WTOC) - It's a mystery you might come across in a book.
An item lost for decades, perhaps even forgotten, uncovered by pure luck and sparking a search for its rightful owner and the story that comes with it. A story that takes place on Tybee Island and centers around a New York Times Bestselling author, Mary Kay Andrews.
When Andrews isn't writing you're likely to find her restoring homes.
"Old houses, they kind of whisper to me. They have stories to tell."
One house on Tybee Island had quite the story hidden in its walls.
"The workers were tearing out the bathroom wall and they called my husband and said, 'hey we found this old billfold in the wall,'" said Andrews.
As for how it got there.
"Somebody had obviously put that wallet through that slot, and it was sitting right here behind the wall," said contractor William Harrell, who discovered the wallet.
An old razor blade slot never before opened.
"It's obviously been in the wall for 66 years," said Andrews.
Although the years haven't been kind to it, once Andrews looked inside, that's when the true story began to unfold.
"As soon as I saw this I thought, 'wow!'"
The story's main characters, "it belonged to a woman named Melba Helms Lanier and her husband, Jack Lanier, both Tybee natives."
As for the house at 709 Second Avenue.
"This was their little newlywed cottage that they lived in," Andrews said.
While Andrews learned a lot from the contents of the wallet, soon, the trail would go cold as she discovered both Melba and Jack had passed away.
But, for this author, the story wasn't over.
"Well, it's a piece of a puzzle and, you know, I write mysteries for a living, so when a puzzle presents itself in real life you have to solve it."
So, she took her story to social media, where it got plenty of eyes, 250,000 people, and eventually, she got a break in the case.
"I know that they had children, but I didn't know how to reach them. Luckily, my followers on Facebook did."
Their children, Kevin and Sheryl still live in Georgia and Andrews has invited them to retrieve what was once lost and walk where their parents once lived. Giving them a twist ending they may have never seen coming.
"Tybee is a sentimental place for their family. To know that there's still a piece of their parents here, their parents are gone, but to know that we found a piece of their parents in a broken bathroom wall is pretty remarkable," said Andrews.
Putting an end to another classic Mary Kay Andrews mystery, "only with no murder this time," Andrews joked.
Andrews says Kevin and Sheryl will actually be visiting their parent's old home and picking up the wallet Saturday. She also says she is on the island working on her next book, which ironically is centered around a woman renovating old houses.
As for the house, she hopes to have it ready to rent out before this summer.
Andrews will be signing some of her books socially distanced this Saturday at Seaside Sisters from 1-3 p.m.
Copyright 2021 WTOC. All rights reserved.