Dorchester Road reopens after 2-alarm fire at Summerville church
Published: Jun. 15, 2022 at 2:35 PM EDT
|
Updated: Jun. 15, 2022 at 7:05 PM EDT
DORCHESTER COUNTY, S.C. (WCSC) - A massive fire at a Summerville area church shut down a portion of Dorchester Road for much of Wednesday afternoon.
Crews responding to a fire reported at First Emmanuel Baptist Church said Dorchester Road was closed between Bacons Bridge Road and Orangeburg Road, Dorchester County Sheriff's Lt. Rick Carson said.
Dispatchers received a report of a fire in the building of First Emmanuel Baptist Church in the 10600 block of Dorchester Road at 2:14 p.m., Carson said.
Firefighters say it is a two-alarm fire. A portion of the church's roof appears to have caved in.
Everyone was evacuated from the building and Carson said when deputies arrived, they found a fully-involved fire.
Dorchester County Fire Chief Tres Atkinson says the investigation into the fire has just begun.
"We don't know anything right now, just waiting on the preliminary reports and gathering information," Atkinson said "Our fire marshal's office is already gathering information from the church pastor and the other people that were here."
The South Carolina Law Enforcement Division (SLED), The Bureau of Alcohol, Tobacco, Firearms and Explosives (ATF) and the state fire marshal were also called to the scene.
Atkinson says they had multiple crews rotating while they battled the blaze from all sides to avoid heat exhaustion.
"As you can see, we have North Charleston and Summerville here assisting us," Atkinson said. "We asked for additional crews to come in from our department as well, but we're switching out people as much as possible to keep them in. We also have EMS on the scene which is making sure everybody's vitals are fine, and we're all OK to continue work."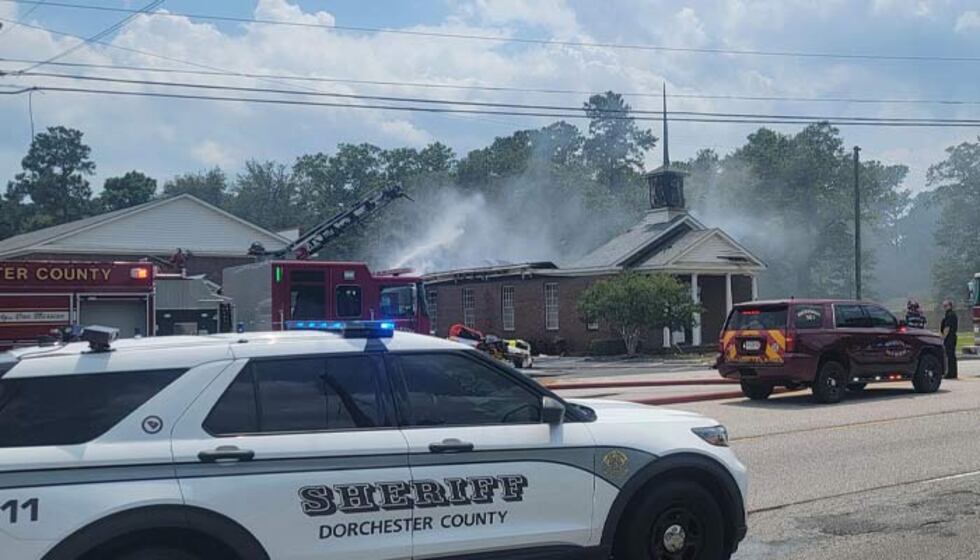 Copyright 2022 WCSC. All rights reserved.