Planning commission rejects change that would bring new development to St. Helena Island
Gullah/Geechee oppose new development on 'sacred' St. Helena Island
Published: Jan. 5, 2023 at 2:29 PM EST
|
Updated: Jan. 5, 2023 at 10:07 PM EST
BEAUFORT COUNTY, S.C. (WCSC) - The Beaufort County Planning Commission unanimously did not recommend changes to an ordinance that protects St. Helena Island because of its cultural and historical significance.
Thursday's three-hour meeting included a lengthy discussion about the county's Cultural Protection Overlay district.
The meeting was heavily attended with only standing room available when the meeting started.
The attendance comes following an online petition that garnered more than 5,000 signatures from those seeking to protect the island from development.
St. Helena Island and some of its surrounding barrier islands have been part of a Cultural Protection Overlay District since 1999. Marquetta Goodwine, also known as Queen Quet, the chieftess of the Gullah/Geechee Nation, says the CPO is important to protecting the living culture.
"I'm one of the few living members that got the cultural protection overlay district created in Beaufort County. And then I worked up and down this coast, from North Carolina to Florida trying to get other counties to replicate it," Quet says. "But this is the only place in the world where a zoning ordinance was put in place to protect a living culture. That culture specifically being Gullah culture at the time that they know better now is Gullah Geechee culture."
The CPO was originally approved with wording that outright prevents the development of restricted or gated Areas, resorts and golf Courses. Now, the Beaufort County Planning Commission is considering updating the language to include exceptions. The exceptions being considered are highlighted in yellow.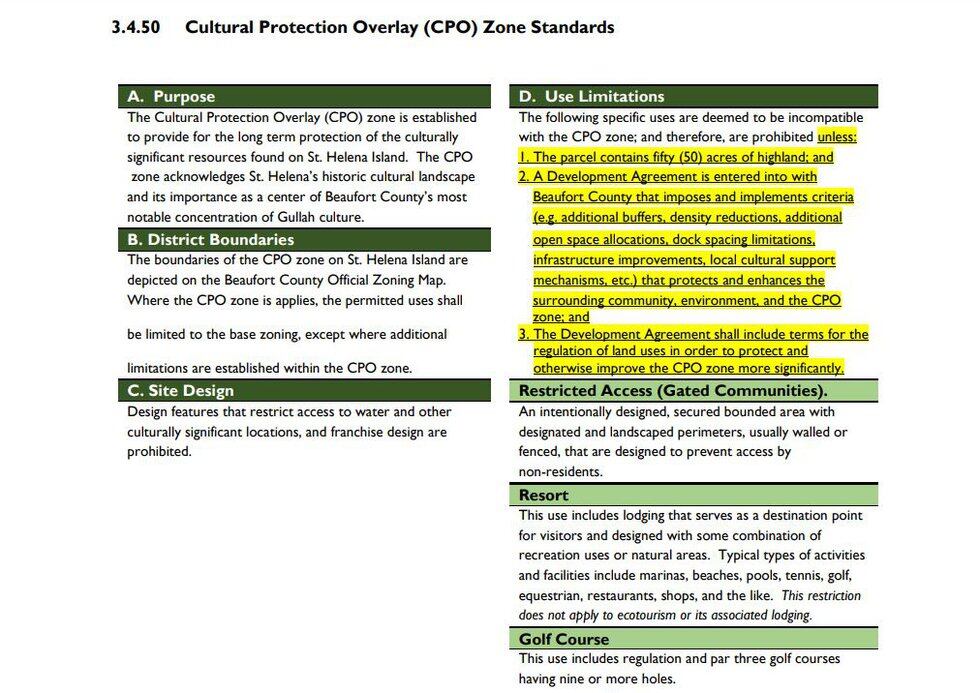 Quet and other petition organizers fear the change is prompted by a developer pushing to buy the area on Pine Island Plantation and St. Helenaville to develop a golf course and gated resort. She says this has happened before and she doesn't want to see it happen again.
"It was put in place to prevent gated areas, golf courses, franchise-style businesses from being placed on St Helena Island or any of the outlying islands because we witnessed the displacement of our people due to those types of gentrification tools that are used and displacement tools that have been used up and down the coast to remove our people, our prime example being Hilton Head Island, which is also in Beaufort County," Quet says.
Along with the Gullah/Geechee Nation, the Coastal Conservation League, South Carolina Environmental Law Firm, Penn Institute and even Gov. Henry McMaster oppose the changes opening doors for development.
In a letter to the Chairman of the Beaufort County Planning Commission, McMaster wrote:
It is my fear that changes to the CPO, which has protected St. Helena from this type of development since 1999, will signal "open season" to other developers and create a domino effect on St. Helena Island and beyond. It is my opinion that careful consideration of the benefits of development weighed against the certain damage to this pristine, historic, and culturally significant land will yield a decision to leave the CPO untouched.
Grant McClure with the Coastal Conservation League says in addition to being home to the deep-rooted Gullah/Geechee culture, St. Helena Island has important environmental qualities.
"St. Helena is a pristine landscape. There are salt marsh estuaries, there are maritime forests. You're likely to see things like roseate spoonbills and wood storks on a visit out to St. Helena Island. It is truly a national treasure," McClure says.
He says bringing large development to the area, no matter the stipulations and requirements met, will have detrimental consequences.
"You're probably going to be taking down trees, displacing wildlife, potentially putting in hardscapes that are going to accelerate runoff into our waterways, all things that are concerning, and I'm hopeful that the cultural protection overlay will be upheld," McClure says.
For the thousands of Gullah/Geechee who live on St. Helena, Quet says the island is home to a unique community with a living culture and language.
"You can still hear the Gullah language. You can still hear its harmony, blending in with the birds singing. You can hear it with the cicadas even and you don't have to hear anybody saying 'fore!' or anything like that," she says. "Unless we're saying it's time for dinner. We got the creeks from amidst that salt marsh, a place where we can go and still breathe fresh air where we can see it on the landscape."
With the support of island people, the governor and environmental organizations, Quet hopes the planning commission will uphold what they call the sanctity of St. Helena through the CPO district and all it protects.
"This is sacred ground. This is what people call God's country. And we know that's what St Helena is. That's what St. Helenaville is. That's what Pine Island is. That's what we know makes Beaufort beautiful Beaufort by the sea because of we who be Gullah Geechee who kept this landscape, the cultural landscape that it is an environmentally beautiful place that it is," Quet says.
Copyright 2023 WCSC. All rights reserved.