Chants Falter on the Road in Saturday Contest at James Madison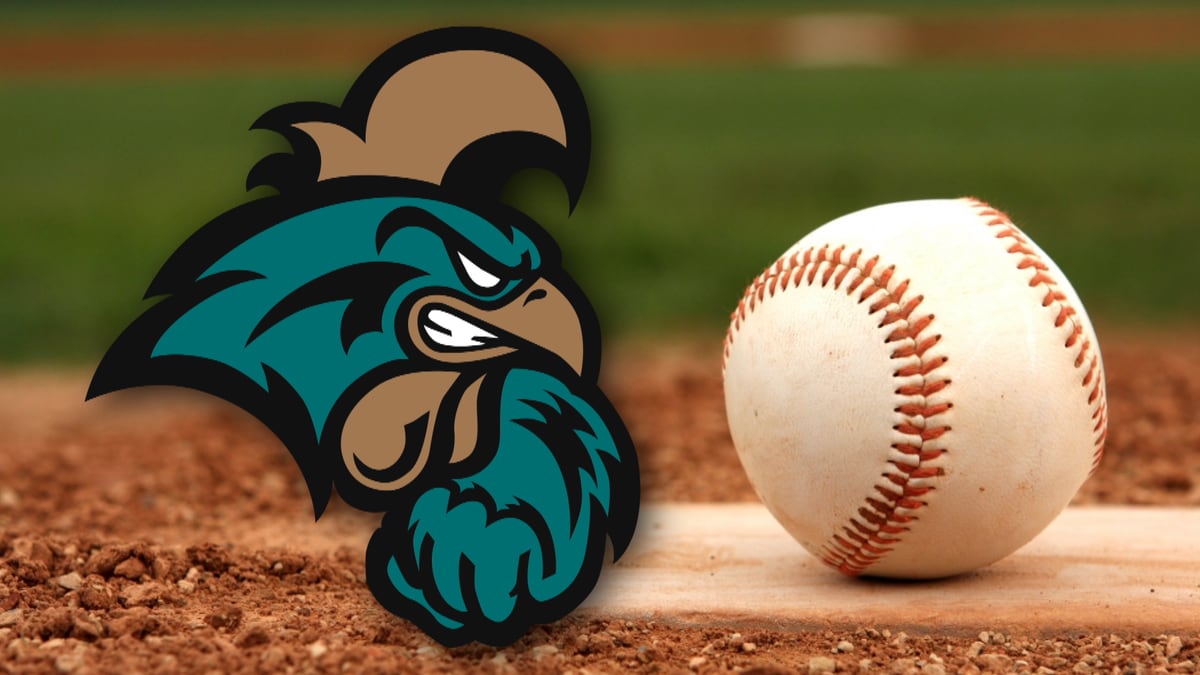 Published: Mar. 18, 2023 at 9:18 PM EDT
HARRISONBURG, Va. – Coastal Carolina fell behind early and was unable to dig itself out of the hole in an 8-3 Sun Belt Conference road loss at James Madison on Saturday afternoon at Veterans Memorial Stadium in Harrisonburg, Va.
With the loss, CCU falls to 1-2 in road games and 11-6 overall on the season.
After hitting .533 (8-for-15) with two outs, .478 (11-for-23) with runners on base, and .556 (10-for-19) with runners in scoring position in Friday's 16-3 win over the Dukes, the Chanticleers hit .385 (5-for-13) with two outs, but just .176 (3-for-17) with runners on base, and only .200 (1-for-5) with runners in scoring position in the loss on Saturday.
CCU's offense had just three runs on seven hits and saw two double plays end a pair of scoring threats.
Seven different Chants had one hit in the loss, led by Nick Lucky (1-for-3, HR, BB, 2 RBIs, run) with his third home run of the season, a two-run shot in the sixth inning, and an RBI base hit by Zack Beach (1-for-3, 2B, BB, RBI) in the same inning.
Coastal's Derek Bender (0-for-4) had his hitting streak snapped at 13 games.
The Dukes, who scored two runs in the first, second, fifth, and sixth innings, had four players with two hits each in the win in Fenwick Trimble (2-for-3, HR, 2B, HBP, 2 RBIs, 2 runs), Jaylon Lee (2-for-4, 2B, RBI, run), Mason Dunaway (2-for-4, 2 runs), and Kyle Novak (2-for-4, 2B, run).
The loss fell to Levi Huesman (1-2), as the Coastal freshman starter gave up four runs on seven hits and two hit batters over 2.0 innings on the mound.
Huesman's counterpart in Ryan Murphy (3-1) picked up the win, as the JMU starter held Coastal scoreless over the first five innings and gave up three runs on six hits and two walks over 5.2 innings.
The JMU bullpen was lights out, as the trio of Matt Kleinfelter, Hunter Entsminger, Joe Vogatsky combined to hold the Coastal offense to just one hit, while walking two and striking out three hitters over the final 3.1 innings.
James Madison took advantage of a CCU throwing error and a hit batter in the bottom of the first inning to take a 2-0 lead on a two-out RBI single by Trevon Dabney and then added to its lead in the bottom of the second inning on back-to-back RBI base hits by Jason Schiavone and Jack Cone to push its lead to 4-0 after two innings of play.
After neither team would score over the next two innings, JMU struck again in the bottom of the fifth on a pair of RBI singles by Mike Mancini and Lee to extend the lead to 6-0 heading into the sixth inning.
CCU's bats broke through in the top of the sixth, as Lucky hit his third home run of the season, this one over the scoreboard for a two-run shot to get the visitors on the scoreboard.
Two batters later, Beach laced a double down the right-field line to score Graham Brown all the way around from first base to cut the Dukes' lead in half at 6-3 midway through the sixth inning.
However, the Chants were unable to get a shutdown inning, as JMU's Trimble hit a two-out, two-run home run to left-center field to push the lead out to five at 8-3 with three innings to play.
The Chanticleers stranded one runner in each of the last three innings and failed to push across another run to suffer the 8-3 conference road loss.
CCU stranded 11 runners on base compared to the Dukes' five. Both teams turned two double plays and had one error for the game.
Coastal (11-6, 1-1 Sun Belt) and James Madison (12-8, 1-1 Sun Belt) will play the rubber game tomorrow at 1 p.m. ET at Veterans Memorial Stadium.
Copyright 2023 WCSC. All rights reserved.