Tim Scott to unveil 2024 White House exploratory committee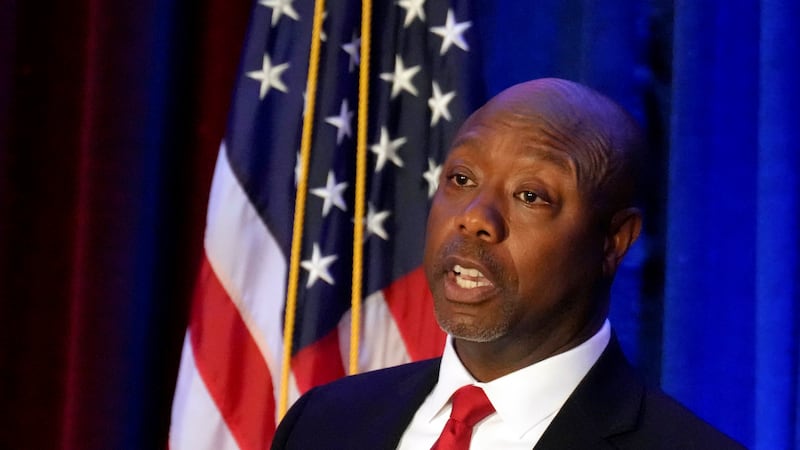 Published: Apr. 11, 2023 at 11:10 PM EDT
COLUMBIA, S.C. (AP) - Republican Sen. Tim Scott of South Carolina is taking the next official step toward a bid for president in 2024.
Scott is set to announce the formation of an exploratory committee, according to a person familiar with his plans who spoke on condition of anonymity Tuesday night ahead of the official announcement.
In an email to supporters, Scott teased that he would be making a "major announcement" during an appearance on Fox News on Wednesday morning.
"I've been doing a lot of thinking the past few months," Scott wrote. "I've been thinking about my faith. I've been thinking about the future of our country. And I've been thinking about the Left's plan to ruin America."
The exploratory committee news was first reported by The Post and Courier of Charleston.
For months, Scott has been developing the infrastructure to accompany a bid for the White House, building out his political action committee and visiting early voting states. This week, Scott returns to New Hampshire and Iowa for roundtable discussions and meet-and-greets with voters, before heading back to South Carolina for "breakfast, policy discussions, and political update" with donors.
Those donors could become key to an exploratory committee, which gives Scott the ability to raise money directly for a possible bid, cash that can fund polling and travel.
Scott has already shown the ability to attract significant money. Opportunity Matters Fund, a pro-Scott super political action committee, spent more than $20 million to help Republicans in 2022, reporting $13 million-plus on hand to start 2023. Tech billionaire Larry Ellison has donated at least $30 million to the organization since 2021, according to federal filings.
If he enters the field, Scott will join another South Carolinian, former Gov. Nikki Haley, as well as former President Donald Trump, former Arkansas Gov. Asa Hutchinson and "anti-woke" biotech entrepreneur Vivek Ramaswamy.
If elected, Scott, the only Black Republican senator, would be the nation's first Black Republican president.
He has signaled how he might distinguish himself from the others in the race by leaning into a more hopeful message than the grievance-based politics advocated by others.
During a February visit to Iowa, which holds the first GOP presidential caucuses, Scott spoke of a "new American sunrise" rooted in collaboration.
"I see a future where common sense has rebuilt common ground, where we've created real unity, not by compromising away our conservatism, but by winning converts to our conservatism," he said.
Copyright 2023 WCSC. All rights reserved.