'Just leave me alone': 93-year-old claims developer is suing to claim property
Published: Jun. 22, 2023 at 12:11 PM EDT
|
Updated: Jun. 22, 2023 at 2:40 PM EDT
HILTON HEAD ISLAND, S.C. (WCSC) - A 93-year-old woman who said a developer has filed a lawsuit against her to force her to sell land spoke publicly about the lawsuit Thursday.
Josephine Wright claims she is being harassed and sued because she refuses to sell her land.
"It's a classic story," Attorney Bakari Sellers said. "You have a 93-year-old young lady who has been working her entire life to provide for her family her entire life. And you have this great big large development company. And look, nobody up here is against development per se. Nobody up here is anti-business. I mean, we just want to keep what's ours and we want to be able to pass that down."
Bailey Point Investment Group filed a lawsuit against Wright last month after Wright said she refused to sell her home to make way for a 29-acre, 147-unit development.
However, court documents filed by the developer tell a different story, alleging Wright has impeded progress on the development by leaving her personal property, including a satellite and a shed, on their property.
"What it was was that they served her with papers that said that there was an encroachment at first with a storage shed a satellite dish, you know, just some crazy things, you know, and a back porch," Wright's granddaughter Charise Graves said.
Graves said they paid out of pocket to the tune of thousands of dollars to remove the items.
The removal of the items still didn't end the harassment from the developers, Graves said.
"Actually, what I want them to do is just leave me alone," Wright said.
Court documents state the items have "significantly delayed and hindered" the development of the property.
"I've spoken to everyone about the fact that there is a concerted effort to take property away from black folk in our community, who have lived a great life who have given so much to this community, and now find themselves at the ripe old age of 93 years old fighting to maintain and keep what is theirs," Sellers said.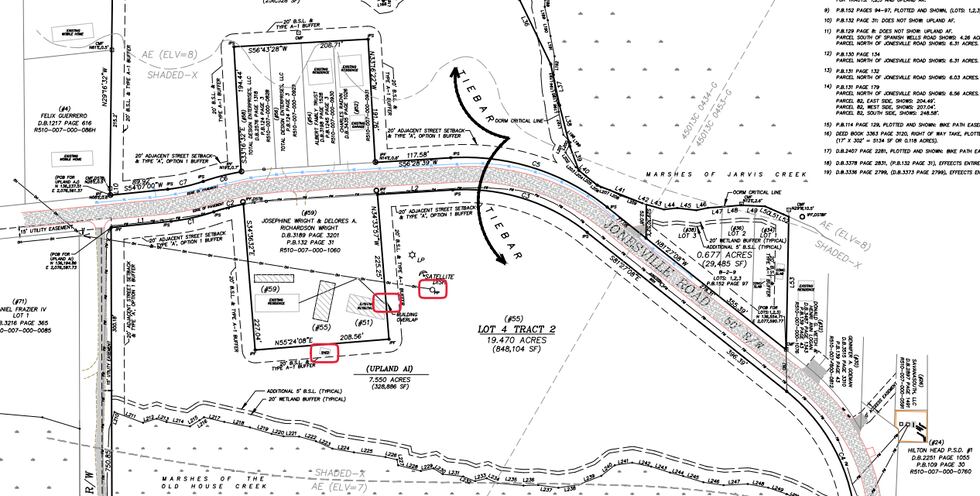 Wright said her family were escaped slaves freed by Union soldiers and that the land at the center of the lawsuit has been in her family since just after the Civil War.
In a counterclaim, Wright's attorneys allege Bailey Point Investment approached Wright about selling the property and was denied.
Court documents claim the developer "began a consistent and constant barrage of tactics of intimidation, harassment, trespass" to try and force the sale.
In May, the developer filed a response to the counterclaim asking for it to be dismissed because there was no claim for which a relief can be granted.
Sellers said a letter was sent to the developers asking them to communicate with Wright.
"I think more disrespectful than a no is a nonresponse," Sellers said.
Wright said she wants to make sure her property is there for her family to enjoy. She has 40 grandchildren, 50 great-grandchildren and 16 great-great-grandchildren.
"It's historical," Wright said. "It goes back to the Civil War and it's been in the family since that time."
Sellers said they are thankful for city and state officials who have spoken out in support of Wright. He calls it a "right and wrong issue."
"We're thankful for all of those people who have spoken out because at the end of the day, when you look at it, although this is about a black lady owning her property," Sellers said. "This isn't really a black-and-white issue. This is about a right and wrong issue."
Copyright 2023 WCSC. All rights reserved.