Possible propane tank explosion caused fire at GCSD administration building, district says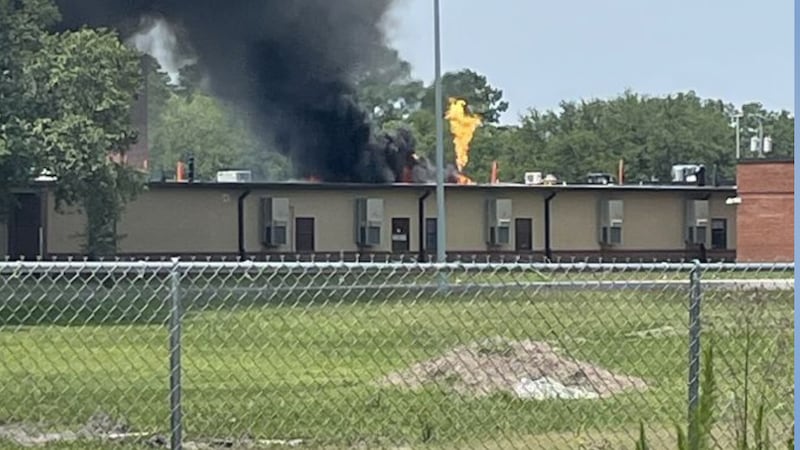 Published: Jul. 3, 2023 at 2:51 PM EDT
|
Updated: Jul. 3, 2023 at 11:20 PM EDT
GEORGETOWN COUNTY, S.C. (WMBF) - The Georgetown Fire Department says the school administration building for Georgetown County sustained damages to the roof after a Monday fire broke out.
Crews responded at 12:24 p.m. to the 2000 block of West Church Street at the J.B. Beck Administration and Education Center.
Once on the scene, the department helped evacuated district employees who were inside the building. Crews began working on the fire, which started on the roof.
A preliminary investigation indicates that a propane tank being used in the building roof repair exploded, according to the school district. Officials said no one was on the roof at the time the fire broke out.
Despite multiple propane tanks exploding because of the fire, Chief Charlie Cribb said the fire was contained to the roof and eventually put out. The roof sustained thermal damage, Cribb said.
He added that the hot temperatures and soaring heat index were a challenge for firefighters as they battled the flames.
"Temperatures were extreme and we obviously brought in Georgetown County Fire EMS and Midway Fire Rescue to assist us to help make sure we rotate people through so everyone could get cooled down through the process," Cribb explained.
After the fire was put out, the district employees were allowed back inside.
"There does not appear to be any major damage, and Georgetown County School District has been cleared to reoccupy the building," the school district said in a statement on Facebook.
The fire remains under investigation. However, Cribb said nothing suspicious is suspected.
Copyright 2023 WMBF. All rights reserved.