James Island community responds to Woodland Shores safety improvements plan
Published: Jul. 11, 2023 at 11:02 PM EDT
|
Updated: Jul. 12, 2023 at 4:12 AM EDT
JAMES ISLAND, S.C. (WCSC) - Charleston County Public Works held a meeting Tuesday night to update the community on safety improvements on Maybank Highway and Woodland Shores Road, presenting a final plan and taking questions from the public.
While the Maybank Highway and Woodland Shores Road project started back in 2018, recent concerns surrounding pedestrian safety come after a woman was found unconscious and laying in the middle of Woodland Shores Road on June 21.
"It's ridiculous," Matt Allen, Woodland Shores homeowner, says. "People are dying; month after month, year after year."
Charleston County says that the sidewalk project has been in the works for some time now and is not happening because of the recent incident.
The proposed plan includes a sidewalk on Woodland Shores, raised crosswalk on Maybank Highway with flashing lights, and a potential speed radar.
"So, in general, it's not going to fix all of our problems, unfortunately, but we hope with the sidewalk, it would be at least a good start; we have to start somewhere," Project Engineer, Riska Dees, says.
At least 100 James Island community members attended the meeting at the James Island Baptist Church, first listening to county planners before a public question session.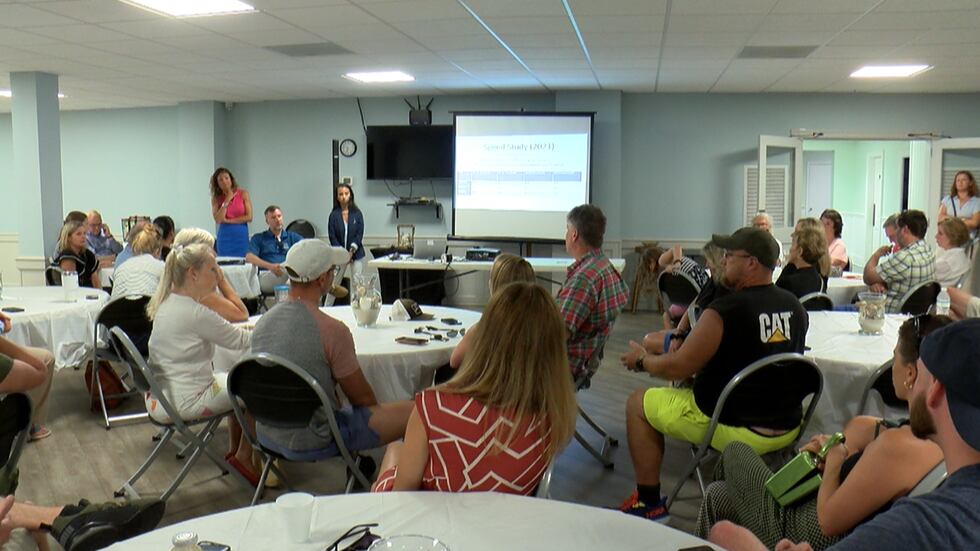 Questions and suggestions from the public included how effective a crosswalk is, slowing the speed limit in the area, and adding more stop signs and speed bumps to the road.
"It needs to no longer be an official police cut-through since they're the ones who speed the most," Allen says. "There needs to be speed bumps and speed humps like we do in every single residential neighborhood in the county."
Another concern some homeowners discussed was exactly which way of the roadway the sidewalk will be sitting on, with residents highlighting the fact they will have to cross the street to get their mail even with the new sidewalk while cars speed by at 45-50 mph.
"There has got to be a better way to slow down cars going 45 – 50 miles per hour on this road that should not be 45 – 50 miles per hour," one homeowner said during the meeting.
But others are thankful that the project is being done in the first place.
"It's really important for folks to know that believe it or not, this project is actually moving somewhat quicker than a lot of transportation projects generally do," Katie Zimmerman, Charleston Moves Executive Director, says. "This project has taken a lot of time and energy and resources."
The project will cost over $2.5 million, more than the original plan because of drainage pipes that will help reduce flooding in the area.
Charleston County plans on construction beginning at the beginning of 2024.
Copyright 2023 WCSC. All rights reserved.