Sumter mother and son missing for almost one month: 'We want you to come home'
Published: Jul. 17, 2023 at 10:47 PM EDT
|
Updated: Jul. 17, 2023 at 11:14 PM EDT
BEAUFORT COUNTY, S.C. (WCSC) - A family continues to search for answers almost one month after a Sumter mother and her 2-year-old son went missing.
Sophia Van Dam, 20, and her son Matteo Van Dam, 2, have not been seen or heard from since June 24, according to their family.
The Sumter Police Department located Sophia's car outside of her home on June 26, but no one was inside.
Sophia and Matteo lived in Sumter with her boyfriend before moving back in with her mother, Theresa Van Dam, to Beaufort.
The last time Theresa had seen both Sophia and Matteo was the early morning of June 22.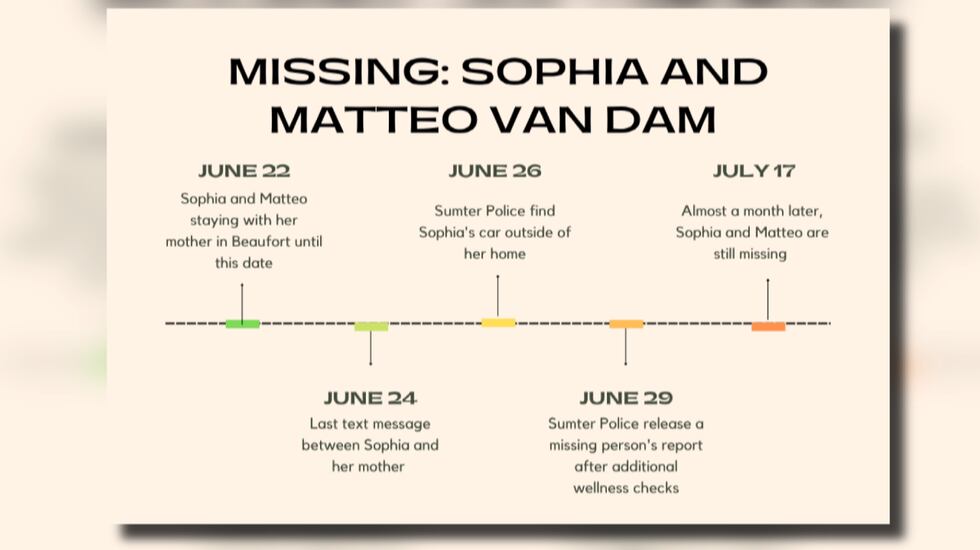 After not seeing her daughter or grandson when returning from work, Theresa contacted Sophia.
The two communicated via text until June 24.
"We'd been texting and all that," Theresa says. "She had been texting sort of crazy stuff, and it wasn't making sense."
That was the last time anyone had heard from or seen Sophia or Matteo.
"With each passing day, it gets a little bit harder, but I still have hope," Theresa says.
Theresa also worries about the possibility of human trafficking or the two being kidnapped.
"At this point, there's a lot of questions in my mind, but the most important thing is that she's safe," she says. "I hope that's the situation that she just felt that her life was at stake, that she was going to protect Mateo at whatever cost it took, and that she fled with nothing to save him."
Prior to her disappearance and moving back to Beaufort, Theresa says she received a phone call from Sophia saying she was afraid.
"She [Sophia] said, 'Mom, if I call you like in the middle of the night, and I say I need to come home, can we come home?'" Theresa says.
"Apparently there were things going on that she was scared of and that she felt like she may have to flee the scene with nothing," she adds.
When asked what she would tell Sophia if she could speak with her, Theresa said the following.
"I would say Sophia, we all love you; your dad, your siblings, they all want you to come home, they want you to be safe," she says. "If for some reason you're having a psychotic episode, and you need help, we're here to help you. We're going to get you the help you need so that you can be the mother that Matteo deserves."
The Sumter Police Department told Live 5 News that their efforts are continuing in the search for Sophia and Matteo.
They are asking anyone with information to contact them directly or call 1-888-CRIMESC.
Copyright 2023 WCSC. All rights reserved.