North Charleston wins third straight Dixie Majors World Series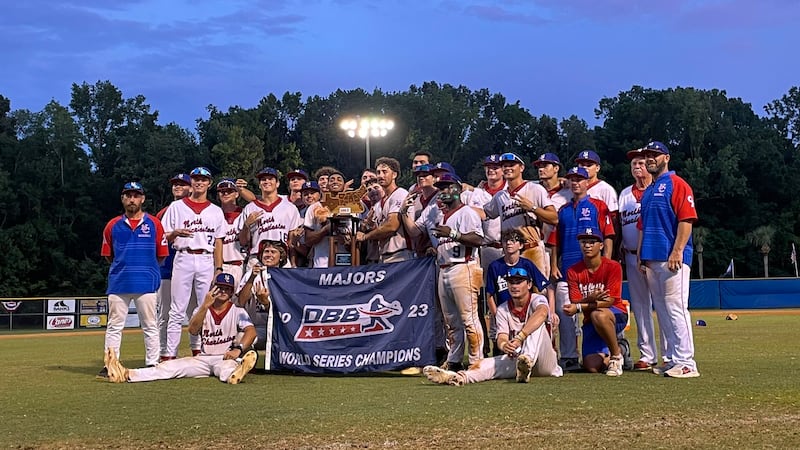 Published: Jul. 26, 2023 at 1:17 AM EDT
CHARLESTON, S.C. (WCSC) - The North Charleston Dixie Majors U19 team won the programs third straight World Series and 11th overall on Tuesday night.
North Charleston beat Southland, Louisiana, 7-2, to win the World Series at the Kenny Wilkinson Baseball Complex at Collins Park.
The Lowcountry team proved to be the top team out of 11 states from across the south that were represented at the World Series, hosted by North Charleston.
North Charleston Head Coach Kenny Wilkinson has now led North Charleston to each of the teams 11 World Series titles.
"We got some unselfish guys right here," Wilkinson said. "They did what they needed to do. We got runners on and they were able to move them in. Everybody here understood what their role was and stepped up and met the challenge. It was really good, good team effort."
One of the turning points was Lane Tobin's bases clearing three-run triple in the top of the 4th to give North Charleston a comfortable 6-1 lead.
"I struggled in the field, but these guys were there and told me keep swinging," Tobin said. "Keep doing what you're doing, and I trusted them and that's what I did."
Tobin, a Summerville High School product, has signed to play at The Citadel next season after spending the last two seasons at USC Sumter.
"It's a dream come true," Tobin said on getting to follow his dad's footsteps and play at The Citadel. "I've been thinking about that since middle school, so I can't wait."
The Dixie Majors head coach had high praise for The Citadel signee too.
"Lane is a player that a lot of people are going to know about," Wikinson said. "He's gonna be a guy that one day you turn around and he's playing pro ball. Because, he gets better everyday, he understands the game. He's got a lot of heart, plays hard, and he gets after."
The North Charleston team didn't drop a game throughout the entire World Series. Wilkinson crediting both pitching and hitting for the team win.
"Pitching was really good all week. Everybody excelled," Wilkinson said. "Our pitchers came out and did the job, that was a big deal."
Most of the players on the Dixie Majors team are high school or young college players. As Tobin ages out, he said playing for the North Charleston Dixie Majors and Coach Kenny have been the best summers of his life.
Copyright 2023 WCSC. All rights reserved.