District: Marlboro County asst. principal hurt while breaking up fight, video released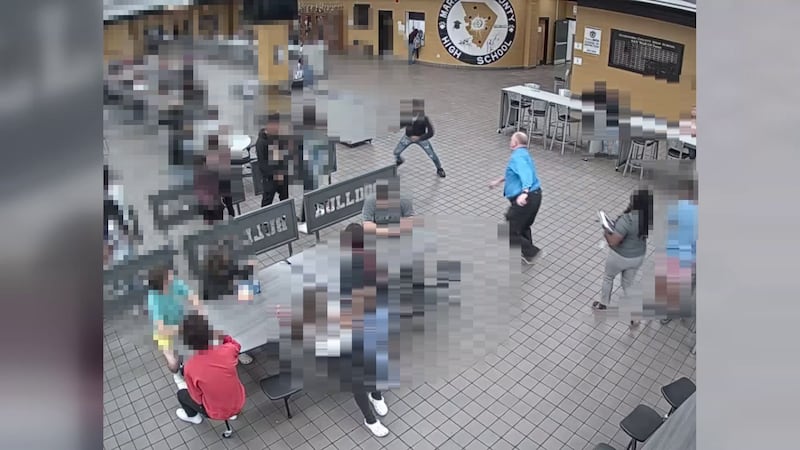 Published: Aug. 11, 2023 at 10:02 AM EDT
|
Updated: Aug. 11, 2023 at 5:16 PM EDT
MARLBORO COUNTY, SC (WMBF) - The Marlboro County School District released a video that appears to show an assistant principal tackling two students to break up their fight.
The fight took place on Thursday at Marlboro County High School.
The video appears to show the students starting to fight, then the assistant principal of the school comes from the side and tackles the two students. The students and the assistant principal are then seen falling over and knocking down a cafe barricade.
According to the district, the assistant principal continued to hold down one of the students even after help arrived "because he [student] continued to go after the other student."
In the video, the assistant principal and another adult are seen pushing the student back into a table. From there, the assistant principal appears to be placing the student in a headlock to keep the student restrained.
The district says the assistant principal jumped in to stop the fight and separated the students to "protect student safety."
"Marlboro County School District works diligently to maintain student safety; however, there are unintended consequences when students make poor choices," the district stated in a news release.
The assistant principal, who was not named by the district, was hurt during the incident. The extent of his injuries is not clear.
When asked if the district would take any action toward the assistant principal, the district responded "personnel-related issues cannot be discussed."
The full video can be viewed below:
Copyright 2023 WMBF. All rights reserved.