'We need to fund our officers': N. Charleston police officers to see raise
Published: Aug. 10, 2023 at 11:03 PM EDT
|
Updated: Aug. 10, 2023 at 11:38 PM EDT
NORTH CHARLESTON, S.C. (WCSC) - The North Charleston City Council voted to raise police officers' salaries in the city on Thursday evening, noting competitive pay, turnover rates and recruiting certified officers.
All certified North Charleston police officers will see a $5,600 raise after the city council's decision.
After officers, raises will continue in smaller amounts, but will still be given to corporals, sergeants, lieutenants and captains.
Corporals will be increased $5,200

Sergeants will be increased $5,000

Lieutenants will be increased $4,000

Captains will be increased $3,000
"We're constantly looking at the market trends to see what police officers are making in the area; and historically, we've always been at or near the top, the best paid police officers," North Charleston Police Department Chief, Greg Gomes, says. "Recently, we kind of noticed that some other agencies, to their credit, had increased salaries."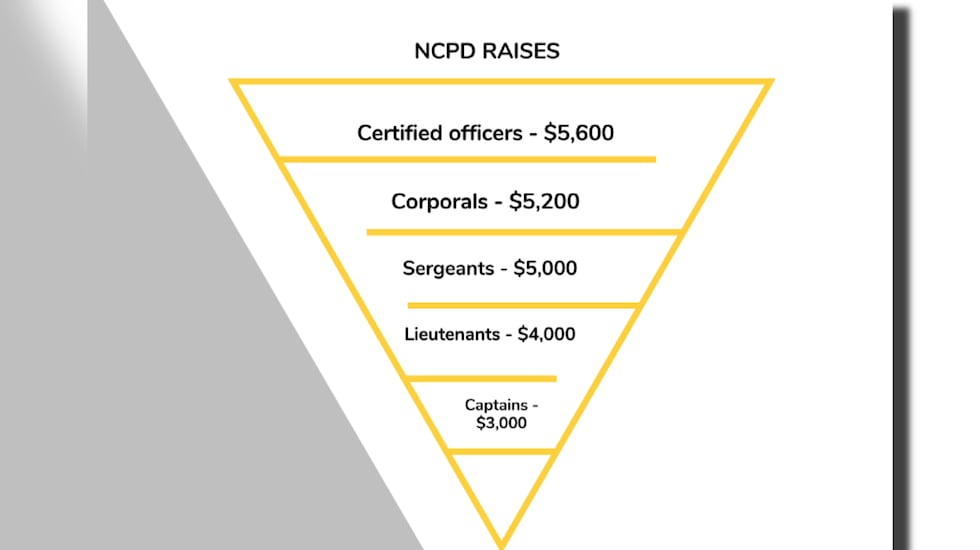 During the council meeting, members discussed the current pay in North Charleston compared to other surrounding agencies and determined why the raise was necessary compared to Mount Pleasant and Charleston.
"We have always tried to be competitive, not just in law enforcement, but in all positions that we have in the city," North Charleston Mayor, Keith Summey, says. "The ones that have, and I honestly think it's been because there's been a lot of turnover, are people in law enforcement getting out."
Funding for the raises totals to $1.7 million but will not cost taxpayers additional funds since the city underbudgeted the revenue for the upcoming fiscal year.
"Let folks know that we are freaking serious about first responders, public safety and especially law enforcement in our community, North Charleston Councilmember, Ron Brinson, says.
Gomes says by hiring the best officers in the state, the citizens and businesses can rest assured that there are going to be services available when they need it.
"It's great, because like anyone, they have families, and they have responsibilities outside of the job, but hopefully, it gives them that little bit of boost," he says. "It allows them to come here and be focused on the job they have to do here, because let's be honest, it's a stressful and difficult job that they have."
The raises for officers are expected to go into effect next month.
Copyright 2023 WCSC. All rights reserved.