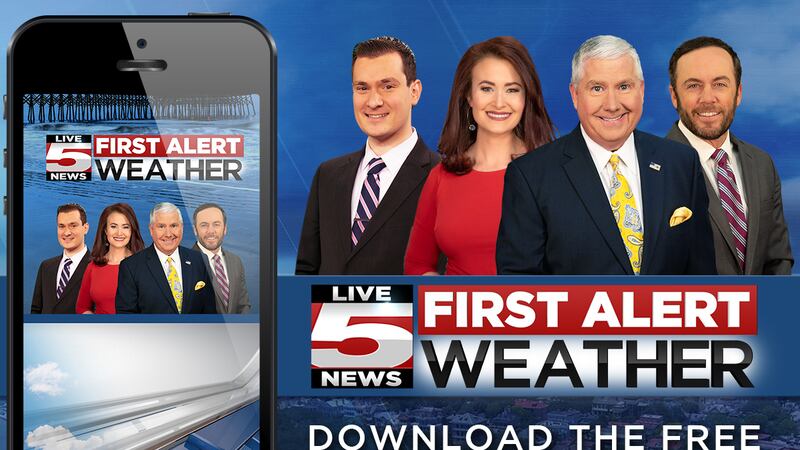 Published: Aug. 29, 2023 at 10:47 AM EDT
|
Updated: Sep. 5, 2023 at 10:51 PM EDT
CHARLESTON, S.C. (WCSC) - The heat continues into the middle of the week. High pressure will control our weather until a cold front approaches from the west over the upcoming weekend. We will stay in the low to mid 90s through at least the end of the week. The front will increase our rain chances Friday into the upcoming weekend. By Saturday and Sunday we will keep a 40% chance of showers and thunderstorms in our forecast.
TROPICS: Tropical Storm Lee will continue to develop and forecast to become a dangerous category 4 hurricane. Current models take it just north of the Leeward and Virgin Islands. After that some of the longer range models turn the storm more north and out to sea, but confidence this far out on where that turn will occur is low. We'll continue to monitor. A tropical wave forming off of the coast of Africa has a 70% chance of developing over the next few days, but should spin out into the Atlantic Ocean.
WEDNESDAY: Partly Cloudy. High 95, Low 74.
THURSDAY: Sun & Clouds. High 95, Low 74.
FRIDAY: Sun & Clouds. Isolated Rain & Storms. High 93, Low 73.
SATURDAY: Partly Cloudy. Scattered rain & Storms. High 89, Low 72.
SUNDAY: Partly Cloudy. Scattered rain & Storms. High 89, Low 72.
Copyright 2023 WCSC. All rights reserved.