Coroner IDs suspect in deputy-involved shootout on I-526
Published: Sep. 8, 2023 at 12:04 PM EDT
|
Updated: Sep. 8, 2023 at 11:26 PM EDT
BERKELEY COUNTY, S.C. (WCSC) - The Berkeley County Coroner's Office has identified a man who died Friday in a shootout with two deputies after a brief chase Friday morning at the top of the bridge over the Wando River on Interstate 526.
Brent D. Conrad, 37, of Huger, was pronounced dead at the scene, coroner Darnell Hartwell said.
Berkeley County Sheriff Duane Lewis said a lieutenant and a detective who were riding together while searching for a person in an unrelated case saw a driver strike two vehicles and then attempt to strike the deputy's vehicle in the area of Highway 41 and Highway 17. They attempted to pull that driver over but a chase began at approximately 11:30 a.m.
Approximately 10 minutes later, the man stopped on at the top of the bridge and fired at deputies who had just gotten out of their vehicle, he said.
"The suspect did fire several shots at deputies and they returned fire at this point," Lewis said. "I do not have a motive or reason for the shooting."
The suspect died at the scene of the shooting, Lewis said. The deputies were not injured.
The crash shut down both directions of I-526 and the westbound lanes were expected to be closed into rush hour, authorities said.
"I've received a lot of phone calls from the public and a lot of prayers are going out to the deputies that had to be involved in this terrible situation," Lewis said. "It's unfortunate that, you know, things have to resort to that type of situation. But again, we didn't ask for it. We didn't initiate it. It was initiated by someone else and we just have to deal with it."
Lewis thanked the public for their cooperation, their prayers and their understanding about the traffic gridlock.
Lewis said his office called in the South Carolina Law Enforcement Division to investigate, which is normal procedure whenever a law enforcement officer fires his sidearm. The sheriff's office is also conducting its own investigation.
Charleston Police Inspector Michael Gillooly said all eastbound lanes of I-526 have reopened, but the westbound lanes of traffic, as of shortly before 3:30 p.m., were expected to be closed for another hour to 90 minutes.
"Investigators are working diligently to open lanes as soon as possible," he said.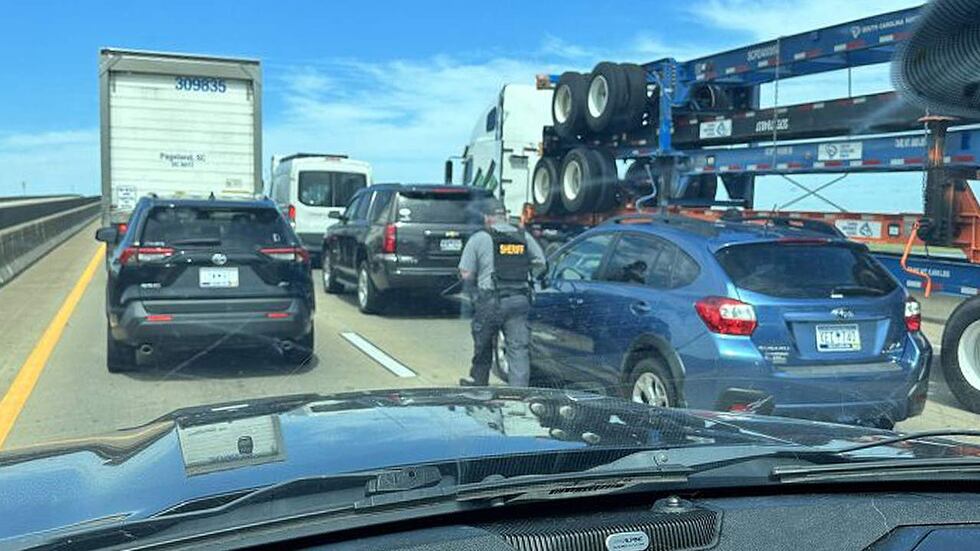 Copyright 2023 WCSC. All rights reserved.