Ronald Acuña Jr. joins exclusive 40-40 club with 40th home run of the season for Braves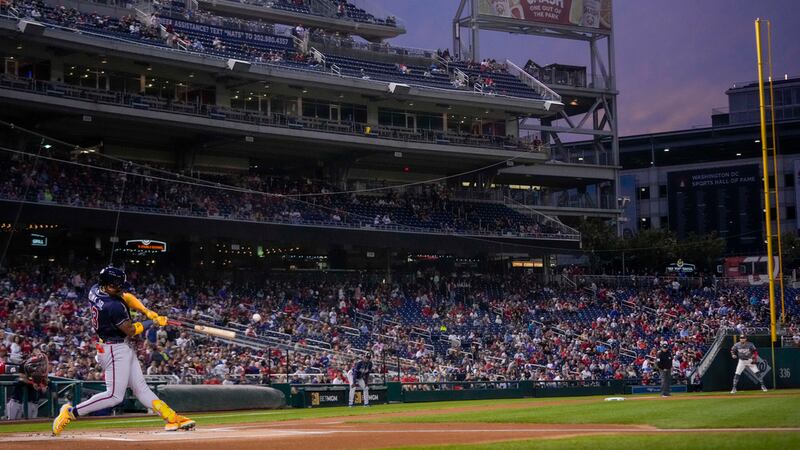 Published: Sep. 23, 2023 at 9:44 AM EDT
WASHINGTON (AP) — Ronald Acuña Jr. joined baseball's exclusive 40-40 club Friday night by hitting his 40th home run of the season for the Atlanta Braves to go along with his 68 stolen bases.
"I am extremely happy," Acuña said through a translator after Atlanta's 9-6 victory over the Washington Nationals. "Honestly, rounding the bases, I don't know if I was more nervous or excited."
Acuña became the fifth player in major league history to have at least 40 homers and 40 steals in the same year.
The others were Alfonso Soriano for the Nationals in 2006, Alex Rodríguez for the Seattle Mariners in 1998, Barry Bonds for the San Francisco Giants in 1996, and Jose Canseco for the Oakland Athletics in 1988.
"It's elite company, that's for sure," Braves manager Brian Snitker said before the game. "I'm just glad I got a front row seat to watch it."
Acuña connected off left-hander Patrick Corbin leading off the top of the first inning. It was his 34th career leadoff homer and eighth this season.
Acuña also doubled and scored three runs. He has hit safely in 14 of his last 15 games, with eight homers and 15 RBIs during that span. His 143 runs are the most since Rodríguez scored 143 in his 2007 AL MVP campaign with the New York Yankees.
"He's healthy," Snitker said. "He wasn't healthy last year and he has been from the get-go this year. I think that's a product of him doing what he can do because he's healthy again."
A leading contender for the NL MVP award, the 25-year-old Acuña was already the only player in big league history with 30 homers and 60 stolen bases in one season.
"It's pretty incredible and just think of how many players have played in the big leagues and my name is alone," Acuña said. "But I'm hoping, and I'm sure someone will break that record, too."
Acuña tore a knee ligament during the 2021 season and missed Atlanta's run to a World Series title that year.
He got close to 40-40 in 2019 with 41 homers and 37 stolen bases. He said after Friday's game that quest was on his mind when he reached the mark Friday night.
"I had that goal in 2019 when I was almost able to get it, but my goal this season has been just stay healthy," Acuña said. "And luckily I have been able to stay healthy."
Copyright 2023 WCSC. All rights reserved.