Tropical Storm Philippe slightly stronger, next system more likely to develop
Published: Sep. 23, 2023 at 12:04 PM EDT
|
Updated: Sep. 27, 2023 at 12:18 PM EDT
CHARLESTON, S.C. (WCSC) - With Tropical Storm Philippe slowly gaining strength, the National Hurricane Center says a system behind it now has a higher chance of developing into a depression or the next tropical storm.
Click here to download the free Live 5 First Alert Weather app.
The National Hurricane Center says there is a 90% chance of development within the next two days for an area of low pressure located about halfway between the Cabo Verde Islands and the Lesser Antilles.
Environmental conditions are expected to favor development and a tropical depression is expected to form by Thursday as the system moves west-northwestward across the central tropical Atlantic.
If the depression were to strengthen into a tropical storm, it would take the name Rina.
Live 5 First Alert Meteorologist Chris Holtzman says the depression is expected to follow a similar path as Tropical Storm Philippe.
At 11 a.m. Wednesday, the center of Tropical Storm Philippe was located near latitude 17.5 North, longitude 53.7 West. Philippe is moving toward the west near 9 mph, and a westward to west-northwestward motion is expected over the next few days.
Maximum sustained winds have increased to near 50 mph with higher gusts. Little change in strength is forecast over the next day or two, with slow weakening forecast this weekend.
Tropical-storm-force winds extend outward up to 205 miles from the center. The estimated minimum central pressure is 998 mb or 29.47 inches.
Holtzman says early computer models show Philippe could be at borderline hurricane strength by the end of the week. Those models currently forecast the storm staying out at sea.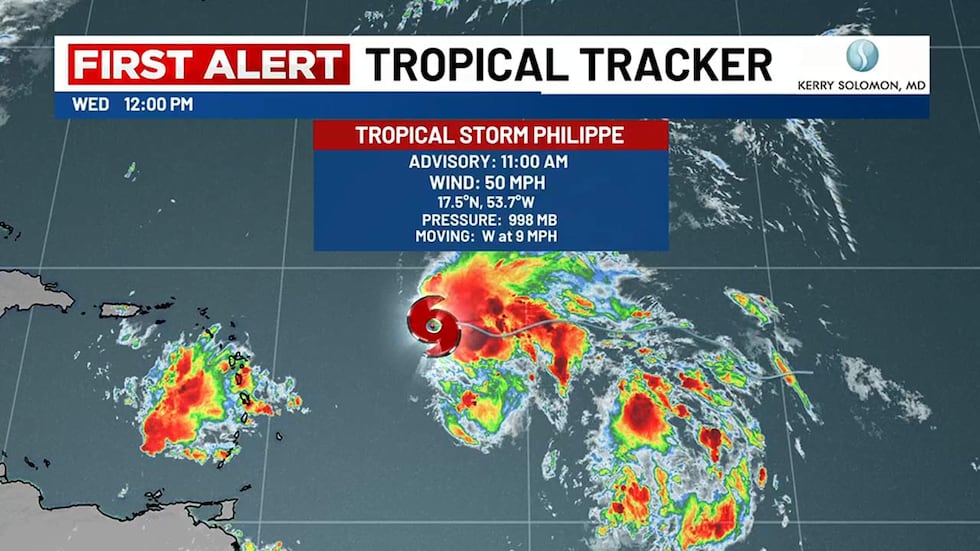 The National Hurricane Center said the depression formed mid-morning Saturday, more than five hours after Tropical Storm Ophelia made landfall near Emerald Isle, North Carolina.
There is no immediate threat to land for the new tropical depression as early storm tracks anticipate a turn toward the northern Atlantic by the middle of the week.
Copyright 2023 WCSC. All rights reserved.