Count on Swinney's steadiness to build back stumbling Tigers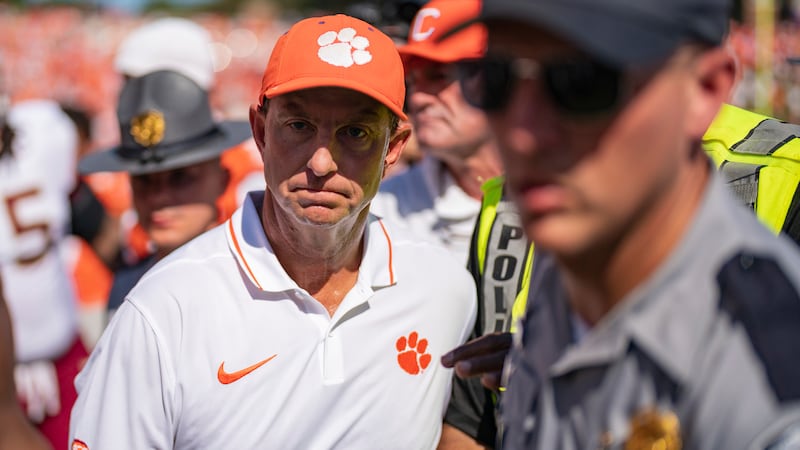 Published: Sep. 26, 2023 at 7:46 PM EDT
CLEMSON, S.C. (AP) — Clemson won't be part of the College Football Playoff for a third straight year and has little chance of reaching the Atlantic Coast Conference title game, but don't expect drastic decisions from coach Dabo Swinney.
His steadiness — like it or hate it — has led the Tigers to 12 straight 10-win seasons, eight ACC titles and two national championships.
Clemson (2-2) was a preseason top-10 team, favorite for another ACC crown and a return to the CFP for the first time since 2020.
But those goals are over. Florida State drove the stake through Clemson's hopes with a 31-24 overtime victory at Death Valley on Saturday and dropped the Tigers to 0-2 in the ACC for the first time since 2010, Swinney's last losing season.
"Games like that can come down to two or three plays," said Swinney, 53. "And they made a couple of critical plays."
Clemson and Swinney are in a valley, losing four of its past five games against Power Five opponents. They'll be on the outside of the championship chase in a college football world that now embraces name, imaging and likeness licensing deals, player empowerment and getting better quickly through the transfer portal.
Swinney's been slow at times to get on board. He said in 2014 he'd quit coaching if college players were paid.
"As far as paying players, professionalizing college athletics, that's where you lose me," Swinney said. "I'll go do something else, because there's enough entitlement in this world as it is."
Swinney has clarified several times since that he's all for NIL opportunities for college athletes.
He's also been criticized for using faith as a key tenet to his program — he quipped last December that the team was built on NIL, in "God's name, image and likeness" — and for his response to the Black Lives Matter movement following the murder of George Floyd in 2020.
Ex-Clemson fullback Darien Rencher, among team leaders including quarterback Trevor Lawrence who organized a protest march that summer, said Swinney was always supportive of players of all races and backgrounds.
Swinney's recruiting has been steady since his 2010 team went 6-7, the program's last losing season. They were ranked among the top 10 nationally in recruiting just four times in that span, according to 247Sports.
Swinney had the ACC's No. 1 recruiting class for five straight seasons. The run included 2021 No. 1 overall draft pick Lawrence and a pair of first-rounders from last April in defensive linemen Myles Murphy and Bryan Bresee.
"To ask anybody to just change immediately what they're doing when it's worked," Rencher said. "You see it? Is this season a fluke? Is this season an outlier?"
Rencher said Swinney has changed already, going off his preferred method of promoting worthy, home-grown candidates by hiring TCU's Garrett Riley as offensive coordinator and dismissing longtime assistant Brandon Streeter.
"He thought it was time to take a new step, take a different route," said Clemson tight ends coach Kyle Richardson. "And that's what he did. It's our job as coaches to support that decision."
The biggest criticism the past few seasons has been the transfer portal and Swinney's lack of use. The Tigers have only brought in a pair of backups to bolster the quarterback room the last two years
Swinney has said repeatedly he's not against going to the portal, but believes in the players he brought in and developed through the years.
The portal, Swinney said, is not as simple as identifying a five-star player no longer happy where they are. That player has to like his potential new school, coaches and program.
"We have a process that we believe in," Swinney said. "We have an established culture."
Swinney is in the second season of a 10-year contract. He'll make $10.75 million this fall. It would cost the university $64 million to dismiss him without cause.
Swinney is confident in his leadership and that he'll have the Tigers back on top.
"We built our road to the top of the mountain," Swinney said. "And we'll build it back to the top again."
Copyright 2023 WCSC. All rights reserved.