Stingrays top Growlers in 8-2 win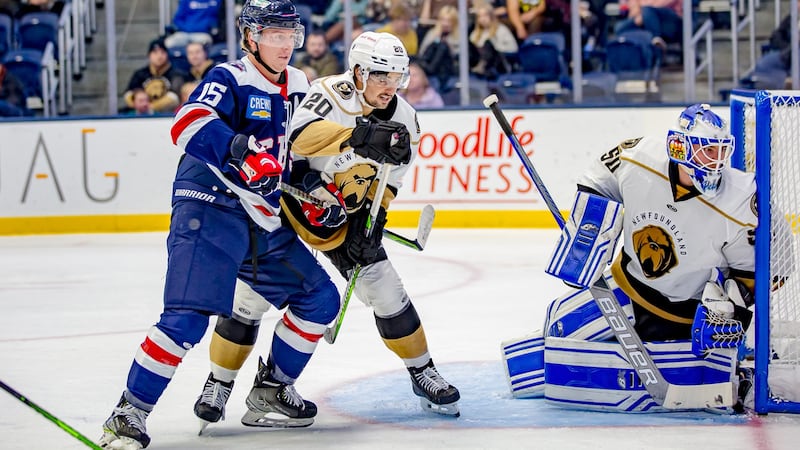 Published: Oct. 29, 2023 at 9:23 PM EDT
NORTH CHARLESTON, S.C. – The South Carolina Stingrays (2-2-0-0) defeated the Newfoundland Growlers (4-2-0-0) by a final score of 8-2 on Sunday afternoon at Mary Brown's Centre. Eight Stingrays players recorded multiple points in the game. Rookie goaltender Reid Cooper made 23 saves and earned his first career victory in his first professional game.
First-year Stingray Patrick Harper opened the scoring 6:50 into the game. Josh Wilkins skated past the top of the right circle and fired a turnaround shot toward the net. Harper tipped the puck in for his first goal of the 2023-24 season and his first goal as a Stingray. Michael Kim made it 2-0 when he beat Newfoundland goaltender Vyacheslav Peksa with a quick shot from the slot. 17:06 into the first, Jarid Lukosevicius wired one off the post and in to put the Stingrays up 3-0.
A four-goal second period put the Stingrays in the driver's seat. Jack Adams, the team's leader in points, buried a feed from Benton Maass to extend South Carolina's lead to 4-0. Harper made it 5-0 when he collected a centering feed from Jonny Evans and roofed it over the shoulder of Peksa for his second goal of the game. Tate Singleton put Newfoundland on the board when he tipped in a shot through traffic by Newfoundland defenseman Jacob Modry. Less than three minutes later, Lukosevicius chipped in a breakaway goal to restore the five-goal lead for South Carolina. Jonny Tychonick and Austin Magera traded goals to end the second period. Magera is tied for second on the Stingrays in goal scoring with three goals through four games.
The lone goal of the third period came off the stick of Benton Maass, who finished off a cross-ice feed from Adams. The Stingrays outshot the Growlers 36 to 25 on Sunday.
The Stingrays return to action on November 2 for a Thursday morning matchup against the Jacksonville Icemen. Puck drop is set for 10:30 a.m. at VyStar Veterans Memorial Arena.
Copyright 2023 WCSC. All rights reserved.