Stingrays edge Icemen in Overtime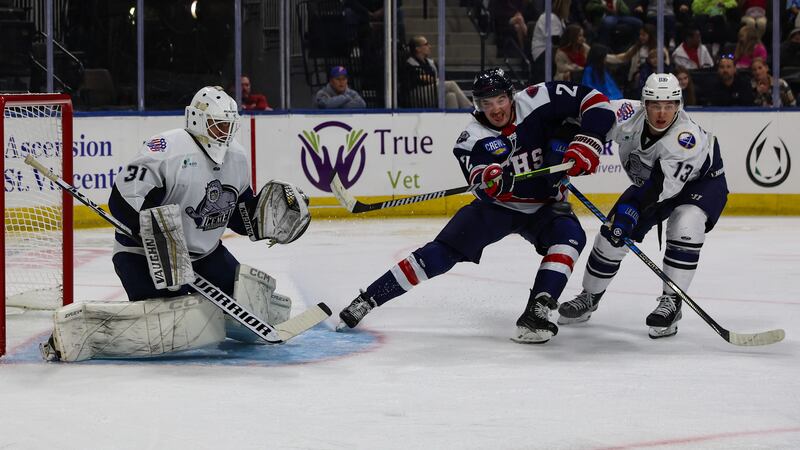 Published: Nov. 2, 2023 at 3:10 PM EDT
JACKSONVILLE F.L. – The South Carolina Stingrays (2-2-1-0) earned their first South Division win with a 3-2 overtime victory over the Jacksonville Icemen (3-0-0-1). Patrick Harper scored the overtime winner on the power play, and Mitchell Gibson stopped 20 of 22 shots to earn the win in his Stingrays debut. Harper's goal was the first power-play goal scored against the Icemen.
Jacksonville got on the board first with a goal from Matheson Iacopelli. Iacopelli collected a centering feed from Jacksonville forward Derek Lodermeier and riffled the puck past Gibson to give the Icemen the lead. Stingrays alternate captain Josh Wilkins tied the game just over a minute later. Kevin O'Neil fed the puck to the point where Peter DiLiberatore fired a shot through traffic. The puck was heading wide, but Wilkins redirected it past Jacksonville netminder Joe Murdaca for his second goal of the season. Kevin O'Neil picked up his team-leading sixth assist of the season on the goal. Tyson Empey put the Stingrays ahead 2:57 later when he tipped in a shot from Stingrays alternate captain Connor Moore. The goal was Empey's second in three games.
The second period had no scoring until the final minute. Anthony Petruzzelli tied the game for the Icemen with 13 seconds to go in the middle frame. Jacksonville's Brendan Harris stole the puck behind the Stingrays' net and fed the puck in front to Petruzzelli, who chipped the puck past Gibson to level the score.
There was no scoring in the third period, but South Carolina earned a golden opportunity when Jacksonville's Jacob Panetta took a tripping penalty with 11 seconds remaining in regulation. South Carolina's power play carried into overtime as a 4-on-3 man advantage. With ten seconds remaining in Panetta's penalty, Harper tipped in a Connor Moore one-timer to ice the game. The goal was Harper's third in his last two games.
The Stingrays return to North Charleston for a Saturday night tilt against the Savannah Ghost Pirates at the North Charleston Coliseum. Puck drop is set for 6:05 p.m.
Copyright 2023 WCSC. All rights reserved.