Stingrays fall to Ghost Pirates in OT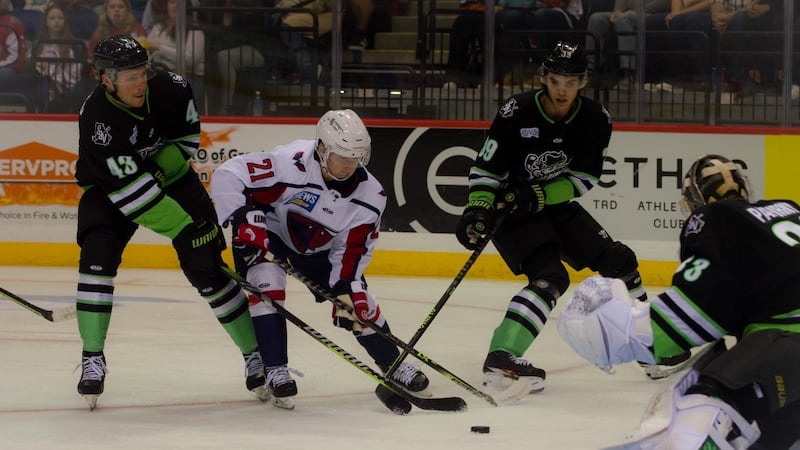 Published: Nov. 4, 2023 at 11:27 PM EDT
NORTH CHARLESTON S.C. – The South Carolina Stingrays (3-2-1-0) fell to the Savannah Ghost Pirates (2-4-0-0) by a final score of 3-2 on Saturday night at the North Charleston Coliseum. The Stingrays fought back to tie the game in the third period but could not secure the extra point in overtime. Stingrays goaltender Mitchell Gibson stopped 22 of 25 shots.
After a scoreless first period, Sebastian Vidmar opened the scoring for the Ghost Pirates when he knocked in a rebound in front of the net at 2:06 into the second period. Just over a minute later, Matt Tugnutt tied the game with his first goal as a Stingray. Jack Adams held the puck in the left wing corner and fired a beautiful cross-ice feed right onto the stick of Tugnutt, who picked the top corner to level the score.
Savannah took a 2-1 lead 17:16 into the second period on the power play when Simon Pinard blasted a one-timer past Gibson from the right circle. Gibson stopped 13 of 15 shots in the second period from Savannah.
South Carolina got the equalizer from Josh Wilkins with 6:17 to go in the third period. Jon McDonald fired a shot from the left point that Wilkins redirected in. The goal was Wilkins' fourth point in his last three games.
Savannah earned the extra point with a goal from Brent Pedersen in the 3-on-3 overtime. Pedersen collected a backhand cross-ice feed from Vince Marleau and picked the top right corner before Gibson could slide across to make the save.
The Stingrays return to action tomorrow afternoon against the Atlanta Gladiators on the road. Puck drop is set for 4 p.m. at Gas South Arena.
Copyright 2023 WCSC. All rights reserved.