CofC wins thriller at home over Iona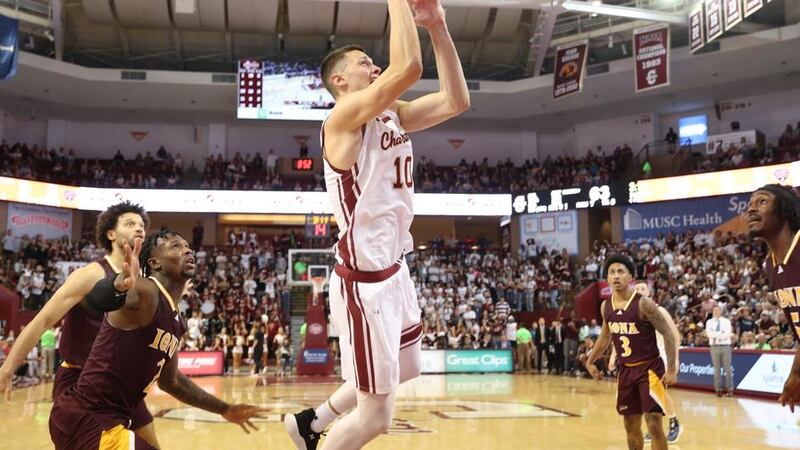 Published: Nov. 6, 2023 at 11:39 PM EST
CHARLESTON, S.C. - The College of Charleston men's basketball team opened the 2023-24 season with a gritty 71-69 win over Iona in front of a sold-out crowd of 5,265 in TD Arena Monday night.
Both teams traded baskets out of the gate, with neither team only by more than three points through the early stages of the contest.
The Cougars held Iona to a three-minute scoring drought with 13 minutes left in the half and took advantage of 6-0 run highlighted by a Mayar Wol dunk that ignited the Charleston crowd in the first game of his collegiate career to retake the lead.
Frankie Policelli drained a triple to push the lead to six followed by another trey a minute later to give the Cougars the largest lead of the night at 27-18. Iona responded, going 6-8 from the field to bring them back within two.
In what turned to be a game of runs, the Cougars bounced back with another 6-0 stretch to make it 41-33. Reyne Smith fired a three with five seconds left in the half to take a 46-39 lead into the locker room.
Iona took a 7-0 run at the beginning of the second half to bring them back within one. The Cougars allowed five turnovers in six minutes to allow the Gaels another 7-0 scoring run, falling behind 56-54 for the first time since the first half. Policelli drained his third triple of the night to retake the Cougar lead with seven minutes left.
The Cougar defense held the Gaels to a five-minute scoring drought, forcing 12 straight misses from the field. Iona's defense responded by holding CofC to 1-10 from the field.
The Gaels retook the lead again with three minutes left before four straight points from Brzovic put the Cougars up 67-64.
The Gaels took advantage of a steal off the fast break to take a 69-68 lead with a minute left. Brzovic responded to the play once again on a driving layup to make it 70-69 and solidify the win.
Key Cougars
• Policelli recorded 15 points and eight boards in his first appearance as a Cougar.
• Brzovic came off the bench to lead the team with 16 points while Ben Burnham added 13 points to provide a strong front court presence.
Game Notes
• The Cougars scored 26 points off the bench
• The win marks three straight season-opener wins for the Cougars
Up Next
• Charleston will spend the rest of November on the road, beginning Friday at the Veteran's Classic. The Cougars will face Duquesne at 7:00 p.m. in Annapolis, Md.
Copyright 2023 WCSC. All rights reserved.