Former Stingrays Brad Dexter, Jason Fitzsimmons named to ECHL Hall of Fame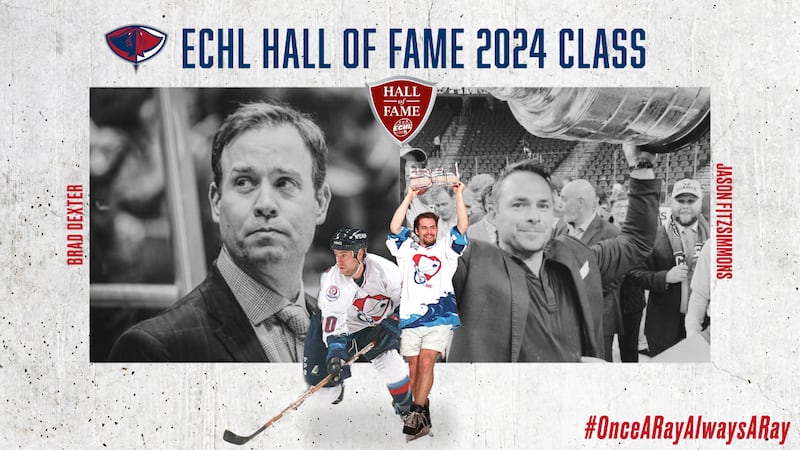 Published: Nov. 7, 2023 at 1:04 PM EST
NORTH CHARLESTON, S.C. – The South Carolina Stingrays, proud ECHL affiliate of the NHL's Washington Capitals and AHL's Hershey Bears, announced today that former Stingrays Brad Dexter and Jason Fitzsimmons will be inducted into the ECHL Hall of Fame.
The 2024 ECHL Hall of Fame ceremony, presented by BFL CANADA and Sutton Special Risk, will take place at 12 p.m. on Monday, January 15, 2024, at the Savannah Convention Center.
Dexter and Fitzsimmons will be formally inducted as part of the 16th class of the ECHL Hall of Fame at a luncheon that will be held in conjunction with the 2024 Warrior/ECHL All-Star Classic presented by Gulfstream.
The induction of Dexter and Fitzsimmons this season will tie South Carolina with Hampton Roads for the most former players inducted into the ECHL Hall of Fame. The other South Carolina inductees include David Seitz (2012), Jason Saal (2018), Jared Bednar (2020), and Brett Marietti (2022).
Dexter will be inducted into the Hall of Fame as a player, while Fitzsimmons will be inducted for his work in player development.
Dexter played for South Carolina for five seasons. He joined the Stingrays in 1996-97 and tallied 17 points (0G-17A) in 16 regular season games before adding 26 points (3G-23A) in 18 playoff games to help South Carolina win their first-ever Kelly Cup in 1997. In his final season with the Stingrays, Dexter skated in all 72 regular season games and recorded 47 points (7G-40A). He then posted 11 points (3G-8A) in 18 playoff games to help the Stingrays win their second Kelly Cup in 2001.
Dexter leads Stingrays defensemen in all-time points with 287 points (54G-233A) in 345 regular season and playoff games. He is third all-time in Stingrays playoff points with 53 points (10G-43A) in 54 playoff games. He was named to the All-ECHL Second Team in both 1998-99 and 1999-2000. He is currently in his first season as a professional scout with the National Hockey League's Buffalo Sabres.
Fitzsimmons joined the Stingrays as a goaltender in 1994-95 and played for the team for three seasons. In the 1997 Kelly Cup Playoffs, Fitzsimmons went 17-7 and backstopped the Stingrays to their first-ever Kelly Cup championship. He was named the Kelly Cup Playoffs Most Valuable Player.
Following the 1997-98 season, Fitzsimmons concluded his playing career and transitioned into coaching. He spent four seasons as an assistant coach for the Stingrays and helped the team win its second Kelly Cup title in 2001. In 2002, Fitzsimmons was named the third Head Coach in Stingrays history. Over the next five seasons, the Stingrays went 188-126-46 while under Fitzsimmons.
In November 2007, the Washington Capitals hired Fitzsimmons as a Pro Scout. He has held that role for the Capitals for the last 16 seasons, and beginning in the 2016-17 season, he added the title of Director of Minor League Operations.
Since Fitzsimmons started scouting for Washington, several former Stingrays have gone on to play for the Capitals. Fitzsimmons won the Stanley Cup with the Capitals in 2018. Four players on Washington's 2018 Stanley Cup Championship team were former Stingrays. He celebrated his day with the Stanley Cup in Charleston that offseason.
In June 2023, Fitzsimmons added an AHL title to his resume when the Hershey Bears captured their twelfth Calder Cup Championship. Fitzsimmons and Jared Bednar are the only former Stingrays to win an ECHL, AHL and NHL title.
Copyright 2023 WCSC. All rights reserved.