Stingrays fall to Gladiators in overtime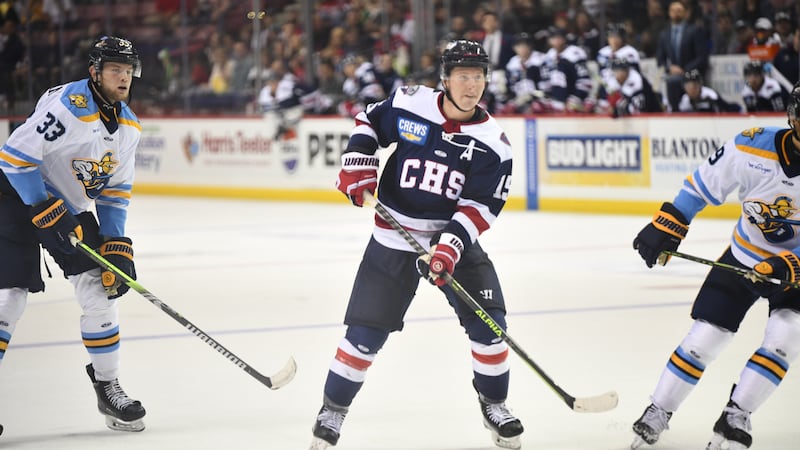 Published: Nov. 11, 2023 at 12:01 AM EST
NORTH CHARLESTON, S.C. – The South Carolina Stingrays (3-4-2-0) fell to the undefeated Atlanta Gladiators (7-0-0-0) 2-1 in overtime. The Stingrays fired 41 shots on goal, but Atlanta goaltender Tyler Harmon turned away 40 of them. Stingrays goaltender Garin Bjorklund made 23 stops in the loss.
Ryan Cranford struck first for the Gladiators 6:37 into the opening period. Cranford one-timed a cross-ice feed from Atlanta forward Michael Marchesan past Bjorklund for his first goal of the season. The Stingrays put 17 shots on goal in the opening period but could not solve Harmon.
The second period featured three fights in a span of 3:08. Garet Hunt, Jack Adams, and Ian Mackey dropped the gloves for South Carolina. Adams' fight was the first of his professional career.
When Mackey fought with Atlanta's Connor Caparie, Casparie was assessed an additional five-minute major penalty for attempting to injure. The Stingrays failed to cash in on the ensuing power-play. The second period ended with South Carolina holding a 29-18 edge in shots on goal.
South Carolina tied the game with 2:06 to go in the third period. Josh Wilkins grabbed the puck at the left circle and fed Connor Moore at the point. Moore fired a low, hard shot that Wilkins redirected past Harmon for his fourth goal of the season. Wilkins has recorded at least a point in five of his last six games, and Moore registered an assist for the third straight game. Spencer Meier earned his first career professional point with the secondary assist on the goal.
The Gladiators took the extra point thanks to an overtime goal by Luke Prokop. Atlanta's Mitch Fossier drove down the right wing and fired a wrist shot on Bjorklund, who made the initial stop. Fossier poked the rebound across the goal mouth to Prokop, who was right on the doorstep to knock in the game-winning tally. South Carolina earned one point in the standings for the overtime loss.
The Stingrays return to action on Wednesday, November 15, when they head to Jacksonville for the second time this season to take on the Icemen. Puck drop is set for 7:00 pm at Vystar Veterans Memorial Arena.
2023-24 Single Game tickets are on sale! Tickets to all 35 remaining regular season home games are available at the following link.
Save money with group tickets! For more information or to purchase, contact the Stingrays by phone at 843-744-2248.
Copyright 2023 WCSC. All rights reserved.