B.J. Mack's double-double helps South Carolina pull away early in the second half to beat VMI 74-64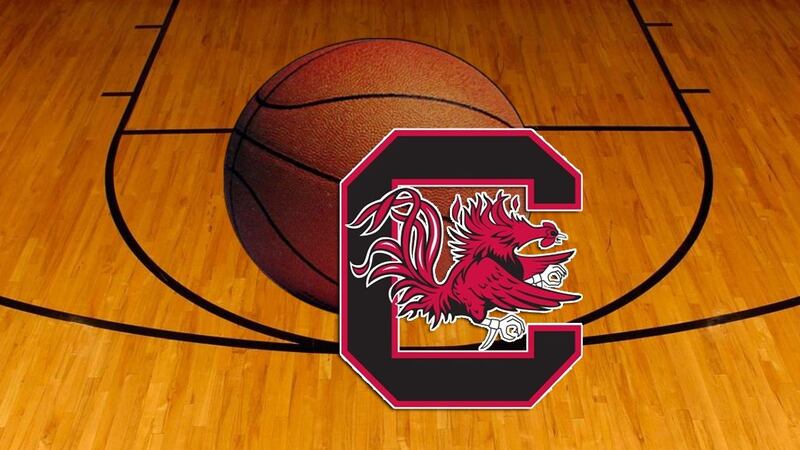 Published: Nov. 13, 2023 at 11:14 PM EST
COLUMBIA, S.C. (AP) — B.J. Mack scored 17 points and grabbed 13 rebounds to lead South Carolina to a 74-64 victory over VMI on Monday night.
Mack, a 6-foot-8 forward transfer from Wofford, shot 5 of 11 from the floor and made 6 of 7 free throws. Meechie Johnson added 13 points and Myles Stute had 10 for South Carolina, which is 3-0 for the first time since the 2019-2020 season.
Mack scored five points and Stute added four during a 16-7 run to open the second half that stretched the Gamecocks' lead to 57-40 with 13:48 to play. It was their largest lead of the game. Jacobi Wright, who finished with nine points, ended the surge with a 3-pointer.
VMI had a 10-2 run to pull to 70-62 with 1:34 left but couldn't get closer.
Freshman reserve Tyran Cook scored 16 points on 6-of-11 shooting to lead VMI (1-2). DJ Nussbaum made 6 of 9 field goals for 14 points. Koree Cotton added 10 points for the Keydets.
South Carolina led for most of the first half and by as many 14 points, building a 41-33 advantage at the break. Mack scored eight points and Johnson chipped in seven in the first half.
Copyright 2023 WCSC. All rights reserved.