Stingrays beat Icemen in OT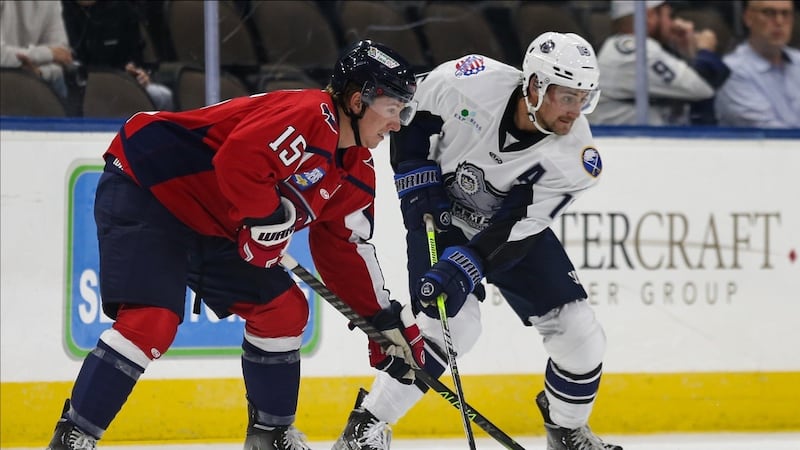 Published: Nov. 16, 2023 at 12:07 PM EST
JACKSONVILLE F.L. – In the second matchup between the South Carolina Stingrays (4-4-2-0) and Jacksonville Icemen (4-3-2-0), South Carolina won 3-2 in overtime once again. Josh Wilkins ended the game with a highlight-reel toe-drag goal 4:49 into overtime. It was Wilkins' team-leading fifth goal of the year. Garin Bjorklund picked up his second victory of the season and stopped 24 of 26 shots.
The Stingrays got on the board first with a deflection goal from Tyson Empey 8:14 into the first period. Empey redirected a shot from the left point by Michael Kim for his fourth goal of the season. The goal was South Carolina's first power play tally since November 5 against Atlanta.
Jacksonville responded less than a minute later when Matheson Iacopelli stole the puck in the high slot and rifled a wrist shot over the blocker of Bjorklund to tie the game.
South Carolina threw 15 shots on goal in the second period but could not extend their lead.
Iacopelli tied the game for the Icemen with 2:27 remaining in the third period. Derek Lodermeier won the faceoff cleanly back to Iacopelli, who fired another wrist shot past Bjorklund to send the home crowd into a frenzy.
Connor Moore committed a delay of game penalty with 33 seconds remaining in regulation to give the Icemen their second power play of the game. The power play continued into overtime, but the Stingrays killed it off and gained momentum. Wilkins ended the game with a spectacular individual effort, where he charged down the left side, muscled his way to the net, toe-dragged around Jacksonville goaltender Michael Houser, and roofed the puck to seal the victory for South Carolina. The Stingrays have killed off 12 consecutive penalties, and they have killed 22 of 23 penalties on the road.
The Stingrays continue their road trip on Friday against the Savannah Ghost Pirates. Puck drop is set for 7:30 p.m. at Enmarket Arena.
Copyright 2023 WCSC. All rights reserved.