No. 1 South Carolina, Fulwiley roll to 13th straight win over rival Clemson 109-40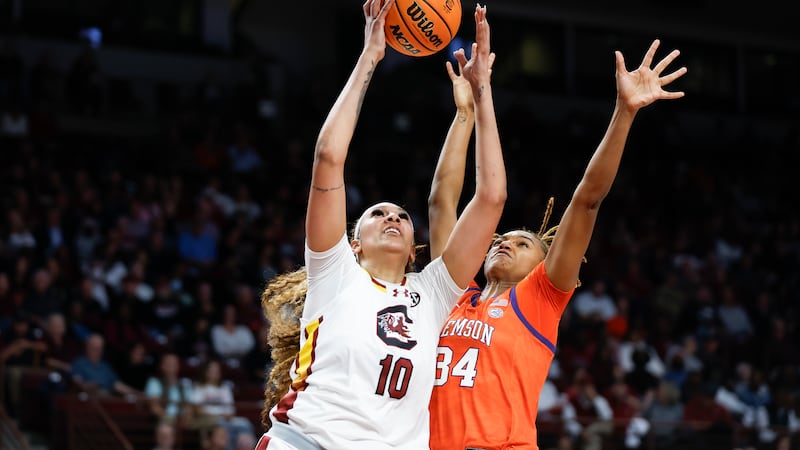 Published: Nov. 16, 2023 at 9:32 PM EST
COLUMBIA, S.C. (AP) — Freshman MiLaysia Fulwiley scored 18 points and Kamilla Cardoso had a double-double with 15 points and 13 rebounds as No. 1 South Carolina rolled to its 13th straight victory over state rival Clemson 109-40 Thursday night.
Oregon transfer Te-Hina Paopao had 14 points with four 3-pointers and the Gamecocks (3-0) used a 28-0 first-half run to win their 43rd straight at home. They have cracked the century mark in scoring in all three wins.
It was Dawn Staley's 200th win in 16 seasons at Colonial Life Arena, a building that was largely empty for women's hoops before she arrived. Now, the program has led the game in average attendance the past nine seasons and drew 16,007 this past Sunday for the 114-76 victory over No. 20 Maryland.
Expect the big crowds to continue with the show these Gamecocks have put on so far.
Fulwiley had two flashy plays, a half behind-the-back move before pulling the ball back for a layin, and a full behind-the-back pass to Ashlyn Watkins for another easy score as the Gamecocks pulled away.
Clemson (3-1) missed 17 straight shots during the back-breaking run.
Fulwiley had four 3s and nine rebounds before fouling out, while the 6-foot-7 Cardoso collected her 18th career game with double figure points and rebounds.
Raven Johnson had a career-best 17 assists, one shy of the South Carolina record. Watkins had her second double-double this season with 12 points and 10 rebounds.
Maddi Cluse led Clemson with 11 points.
THE BIG PICTURE
Clemson: The Tigers found out once more they're still several steps behind their rivals. There were no buttons for sixth-year coach Amanda Butler to push to keep this one close.
South Carolina: It's a dramatic style change from its emphasis down low with All-American Aliyah Boston leading the way the previous four season to a run-like-crazy offense that can score from the outside.
UP NEXT
Clemson: Takes on Longwood at home on Sunday.
South Carolina: Faces South Dakota State on Monday night.
Copyright 2023 WCSC. All rights reserved.