Houston, Dayton advance to finals of Charleston Classic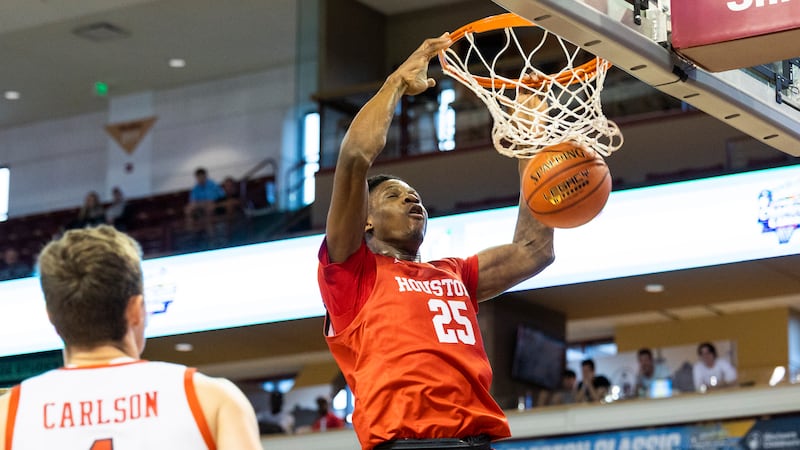 Published: Nov. 18, 2023 at 1:36 AM EST
LJ Cryer's clutch 3s key No. 6 Houston's win over Utah in Charleston Classic
CHARLESTON, S.C. (AP) — Houston coach Kelvin Sampson knows there's plenty of work ahead for his sixth-ranked Cougars, even though they keep winning.
LJ Cryer scored 14 points, including a pair of 3-pointers after Utah had wiped out No. 6 Houston's 14-point lead, and the Cougars beat the Utes 76-66 on Friday to reach the Charleston Classic championship game.
"My kids found a way to win. We didn't shoot the ball well tonight. We didn't make free throws," Sampson said. "Sometimes the culture of your program, your DNA, knows how to win games like this."
The Cougars shot 33% on 3s (8 of 24) and made only half of their 24 free throws. Still, they used the late rally to improve to 5-0 for the second straight season and reach the title game against Dayton on Sunday night.
"We're still finding our way," Sampson said. "But a game like today is what tournament play is about. You've got to get outside the box."
The Utes trailed 50-36 in the second half before Gabe Madsen hit three of his eight 3-pointers during a 20-6 run to tie it at 56-all with seven minutes left.
Terrance Arceneaux broke the tie with a bucket before Cryer, a Baylor transfer, hit two from beyond the arc to put the Cougars ahead 64-58.
Utah would not rally again.
Madsen finished with a career-high 29 points for Utah (3-1), and Branden Carlson scored 17.
Emanuel Sharp led the Cougars with 15 points, and Jamal Shead had 14. J'Wan Roberts had his first double-double of the season with 13 points and 12 rebounds.
Utah was coming off a 77-70 win over Wake Forest in Thursday's opening round that included a career-high 31 points from Carlson.
The Utes were ahead 16-15 on Carlson's basket with 12:14 to go. Houston responded with a 24-14 run the rest of the half to lead 39-30 at the break.
BIG PICTURE
Utah: The Utes' size will give Pac-12 teams plenty of fits this season. They feature a pair of 7-footers in Carlson and Lawson Lovering and have eight players at 6-foot-7 or taller. Houston's speed and defense kept Utah from taking full advantage of its size.
Houston: The Cougars are breaking in new players, including Cryer, who helped Baylor to a national title as a freshman. Sampson said he was drawing up plays down the stretch because of all the new faces who are unfamiliar with the Cougar way. Playing three games in four days — the tournament takes Saturday off in deference to college football — should help the bonding process.
ON THE ROAD
Houston's Sampson quipped that it would be his team's "first true road game" on Sunday because of the loud, large group of Dayton supporters who filled the College of Charleston's arena. The Flyers and Cougars are both trying for their first Charleston title. Dayton has finished sixth and fifth in two previous appearances. This is Houston's first time at the eight-team tournament.
LONG TIME COMING
These teams met only once previously, back in December 1982 at the Suntory Ball Tournament in Tokyo when Houston's Phi Slama Jama was in full flight. and led by Hakeem Olajuwon and Clyde Drexler. Olajuwon had 30 points and 18 rebounds in the 82-57 victory.
Utah and Houston won't wait another 41 years before playing again. Both will be Big 12 Conference members next season.
UP NEXT
Utah will take on St. John's in the third-place game Sunday.
Houston faces the Flyers, who defeated St. John's 88-81 earlier Friday to advance.
Holmes, Santos lead Dayton over St. John's 88-81 in Charleston Classic semifinal
CHARLESTON, S.C. (AP) — Daron Holmes and Nate Santos combined for 27 second-half points to lead Dayton to an 88-81 win over St. John's in the semifinals of the Charleston Classic Friday.
Holmes shot 6 of 14 and made 8 of 9 free throws to finish with 21 points, 14 in the second half. Santos was 6-of-8 shooting and 5 of 6 at the line for the Flyers (3-1). Kobe Brea, Enoch Cheeks and Kobe Elvis finished with 10 points each for Dayton, which shot 52% and made 23 of 28 at the line.
Joel Soriano was 8-of-13 shooting to finish with 21 points plus nine rebounds to lead the Red Storm (2-2). Jordan Dingle added 14 points, Daniss Jenkins had 12 points and eight assists and Glenn Taylor Jr. scored 11.
Santos' three-point play gave Dayton an 11-point lead with a minute-and-a-half to go and the Flyers made five throws from there to seal the win.
Dayton plays No. 6 Houston in Sunday's title game. St. John's plays Utah for third place.
Baker's 16 points lead way in LSU's 66-62 win over North Texas
CHARLESTON, S.C. (AP) — Will Baker scored 16 points, Derek Fountain had 14 and LSU snapped a two-game skid with a 66-62 win over North Texas on Friday in the Charleston Classic.
Jordan Wright added 12 points for the Tigers.
Fountain's bucket gave LSU (2-2) the lead for good with just over four minutes left with the Tigers closing the game on a 10-5 run. Baker's short jumper and Mike Williams III's two free throws in the final minute gave the Tigers a seven-point lead UNT (2-2) couldn't overcome.
Jason Edwards had four 3-pointers, made all eight of his free throws and finished with 22 points for the Mean Green. Rubin Jones had 15 points and John Buggs III had four 3-pointers and 14 points.
Miller, Salas rally Wake Forest to 71-61 victory over Towson in Charleston Classic
Jones hit a 3-pointer with nine minutes left for a four-point lead but the Mean Green made only 2 of 15 shots from that point, including five 3-point misses, while the Tigers made six of their last nine, all from inside the arc.
There were 22 lead changes in the game with LSU's seven-point lead in the final minute the largest. LSU shot 50% and outscored UNT in the paint 36-10. The Mean Green was 12 of 32 from 3-point range and shot just 32% overall.
LSU, which lost to Dayton 70-67 in the tournament's first round, will play Wake Forest for fifth place on Sunday while North Texas, a 53-52 loser to St. John's in its opening-round game, gets Towson in the seventh-place game.
Miller, Salas rally Wake Forest to 71-61 victory over Towson in Charleston Classic
CHARLESTON, S.C. (AP) — Kevin Miller had 25 points, Hunter Salas scored 24 and Wake Forest finished strong to beat Towson 71-61 in the consolation final of the Charleston Classic on Friday night.
Messiah Jones hit back-to-back baskets to give Towson (2-3) a 56-54 lead with 5:44 remaining. Salas hit a jumper to tie it and Miller took over from there, scoring 11 of the final 15 points for Wake Forest (2-2).
Miller sank 11 of 17 shots from the floor for the Demon Deacons. Salas made 8 of 12 shots, including 4 of 6 from 3-point range.
Freshman Tyler Tejada topped the Tigers with 17 points. Jones totaled 12 points and nine rebounds, while Charles Thompson pitched in with 11 points and nine boards.
Cameron Hildreth scored all nine of his points in the first half and Miller sank a jumper at the buzzer to give Wake Forest a 35-33 lead. Tejada scored 10 to keep Towson close. Both teams shot 45%, but the Demon Deacons made 6 of 13 from beyond the arc while the Tigers hit 1 of 3.
Towson went scoreless for 4:39 late, missing eight straight shots. A 3-pointer by Dylan Williamson with 25 seconds left ended the drought.
The Demon Deacons forced 10 turnovers and had just five of their own.
Sixth-ranked Houston beat Utah 76-66 in the championship game.
Copyright 2023 WCSC. All rights reserved.