Meechie Johnson scores 24, South Carolina beats DePaul 73-68 at Arizona Tip-Off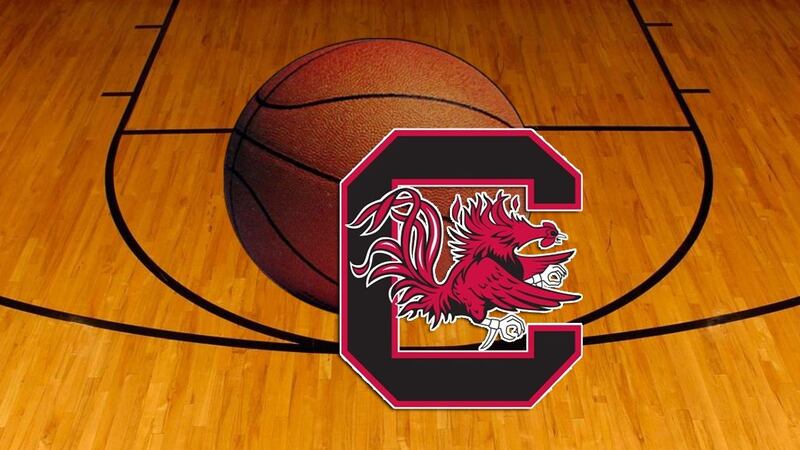 Published: Nov. 18, 2023 at 10:51 AM EST
COLUMBIA, S.C. (AP) — Meechie Johnson scored 24 points Friday night and South Carolina never trailed in its 73-68 win over DePaul at the Arizona Tip-Off.
South Carolina (4-0) is off to its best start since the 2016-17 team, which lost 77-73 to Gonzaga in the Final Four, won its first eight games.
Johnson scored 12 points in a 20-6 run that gave the Gamecocks a 24-10 lead when he capped the spurt with a jumper and then a three-point play midway through the first half. South Carolina took a nine-point lead into intermission and stretched its lead to 58-44 when Benjamin Bosmans-Verdonk made a layup with 12:18 to play. Elijah Fisher and K.T. Raimey each hit a 3-pointer as the Blue Demons scored 11 of 14 points to trim their deficit to six with 5 minutes to go and Da'Sean Nelson hit 1 of 2 free throws to make it 67-62 with 2:35 remaining. Johnson answered with two free throws 13 seconds and the Gamecocks, who shot just 59% (20 of 34) from the charity stripe, made 4 of 6 from the foul line from there to seal it.
Chico Carter Jr. — a native of Columbia and a graduate transfer from South Carolina — scored 24 points on 8-of-13 shooting for DePaul (1-3).
Zachary Davis added 10 points for the Gamecocks.
South Carolina plays Grand Canyon in the Cactus Division title game, and DePaul plays San Francisco in the third-place game, on Sunday.
Copyright 2023 WCSC. All rights reserved.