Rattler, Legette keep South Carolina bowl hopes alive with 17-14 win over Kentucky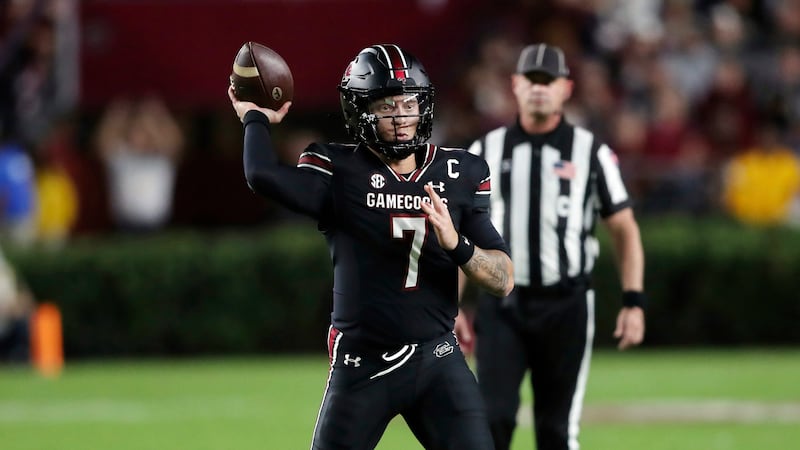 Published: Nov. 18, 2023 at 11:07 PM EST
COLUMBIA, S.C. (AP) — Spencer Rattler completed 19 of 27 passes for 207 yards and two touchdowns and Xavier Legette caught nine of those passes for 94 yards as South Carolina beat Kentucky 17-14 on Saturday night.
The Gamecocks (5-6, 3-5 Southeastern Conference) started November in a big hole, but three straight wins have left them on the cusp of a bowl bid if they can beat bitter rival Clemson next week.
The Wildcats (6-5, 3-5) have lost five of six since starting the season 5-0.
South Carolina took a 10-0 lead, but went stagnant, gaining just 25 yards on its next six drives.
Facing a third-and-15 at their own 21-yard line with another drive about to go down the tubes, Rattler found Legette over the middle for 28 yards and South Carolina was finally shocked out of its offensive doldrums.
Seven plays later, Rattler found Legette again for a 17-yard TD that gave South Carolina a 17-14 lead.
Ray Davis, the SEC's second leading rusher, ran 12 times for 61 yards for Kentucky. Devin Leary was 17-of-34 passing for 171 yards with a touchdown and an interception.
The Wildcats turned the ball over three times, including an interception in the end zone and a strip by Jordan Strachan of Leary that Tonka Hemingway grabbed at midfield with 1:59 left.
Down to just two running backs, South Carolina rushed for just 50 yards. Rattler was the team's second leading rusher.
South Carolina invited Finnish techno star Dardue as its guest of honor. His "Sandstorm" became an unofficial anthem for Gamecocks athletics 15 years ago and he held a pregame concert and enthusiastically pumped the crowd up during the game.
THE TAKEAWAY
Kentucky: Remember when the Wildcats were 5-0 and heading for a SEC East leading showdown with No. 1 Georgia? It's been all downhill since that 51-13 loss to the Bulldogs Kentucky can dash their in-state rival Louisville's slim playoff hopes next weekend.
South Carolina: The Gamecocks often maligned defense held Kentucky to 296 yards, but even more importantly forced three turnovers. It's been a slog at times, but a bowl is within reach if they can knock off Clemson. which seemed like a tall task after losing 30-17 to Texas A&M on Oct. 28 to fall to 2-6.
UP NEXT
Kentucky: The Wildcats have their annual in-state rivalry game Saturday at No. 9 Louisville.
South Carolina: The Gamecocks host bitter in-state rival Clemson on Saturday night.
Copyright 2023 WCSC. All rights reserved.