Ex-Charleston Co. School Board Chair talks superintendent's hiring, departure
Published: Nov. 20, 2023 at 5:00 PM EST
|
Updated: Nov. 20, 2023 at 7:01 PM EST
CHARLESTON, S.C. (WCSC) - After a year of sitting at the head of the Charleston County School Board, Pam McKinney is explaining what happened in the hiring and resignation of the district's superintendent.
McKinney is now taking a step back after being at the forefront of the district's school board through a tumultuous transition marked by long, disruptive meetings and controversial decisions by the conservative-majority board. The year culminated in the hiring and subsequent resignation months later of Superintendent Dr. Eric Gallien. The process that ended with his departure earned the wrath of a vocal group of parents and activists and opened the board, the district and McKinney herself to attacks from local mayors.
For the first time, McKinney is explaining what happened in an interview with Live 5′s Nick Reagan.
The superintendent: 'His interview was outstanding'
The Charleston County School Board announced in late June that they had selected a new superintendent in Gallien, approving his contract in a 6-3 vote. The vote made him the highest-paid employee in the district's history, with him earning a starting annual base salary is $275,000. Following the first year, his salary was set to increase by two percent for each subsequent year.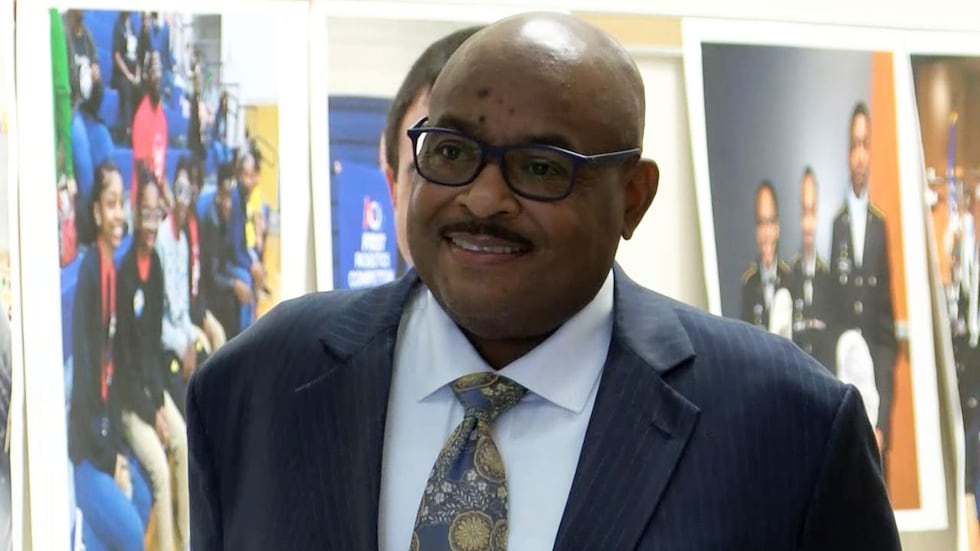 His contract began on July 1, but on Sept. 25, the board voted 5-4 to place Gallien on paid administrative leave during an investigation, which they later said was prompted by a district employee's complaint of a hostile work environment. More than a month later, the investigation into the complaint found no wrongdoing on Gallien's part, but in a unanimous 8-0 vote, the board accepted Gallien's resignation ending weeks of contention and upheaval in the school district.
Reagan: I think there's a lot of questions still out there about what happened with Dr. Gallien. The process from the beginning initially seemed like a good process – get a search firm and do a national search. We came down to the finish line, and it seems like everything fell apart right at the end. What happened with the superintendent search?
McKinney: I would like to know that [myself]. I think things happen that we may never understand and that I still question today. I will simply say that, as you will know, it's public record that he was the only candidate who had a 9-0 vote for a second interview. His interview was outstanding. After the contract was signed, a different operation pattern became evident that I could not agree with.
Reagan: Community members have suggested that it was board members who created all this hurt by bringing this man, uprooting this man from the Midwest, bringing him down here, bringing his family down here and then not giving him the authority to manage his departments, his district effectively with the rule that prevented him from making structural changes.
McKinney: It was his choice to move. When we offered him the job, he could have said no. The only guideline in place was that the superintendent could make changes to the central office. It just needed Board approval.
Reagan: Which, on at least three occasions, the board rejected.
McKinney: I repeatedly told him the directive and repeatedly offered to meet with him, which I did.
Reagan: Do you regret voting to hire Dr. Gallien?
McKinney: I think I made the best decision at the time with the facts that I had.
Reagan: Do you regret the way you handled anything with Dr. Gallien?
McKinney: No, I think I was always very honest and forthright with him.
Reagan: You had 10 candidates that you were interviewing, and you narrowed it down to three. Certainly, you could have looked at an additional couple of candidates. Why didn't that process play out?
McKinney: That was not part of the agreement that we had made with the search firm. . . and it was a decision that our entire board made to go forward with what we did have.
Reagan: What does the future hold? When do you expect we will get a new superintendent?
McKinney: As you will recall, after the vote of separation with Dr. Gallien, which, by the way, he asked for, we met in executive session to discuss his proposal. And we also came out and announced what the new timeline would be. We will address this after the first of the year.
Reagan: Respectfully, that doesn't really sound much like a plan for folks who are listening and want answers now.
McKinney: That is the answer. We are not going to talk about a search during November and December. We will wait till January.
Reagan: When we talk about these turnaround programs, we're talking about things that take years and years to get going and to see results. To not have a defined head leading the ship. It doesn't spell positive news for students who need a turnaround right now.
McKinney: Well, and I think that's why we're so fortunate to have Ms. [Anita] Huggins with us right now. She has the stability. She has been a teacher, a principal, and a deputy superintendent. She understands our district and has been part of the turnaround for our students' test scores.
Reagan: Is there a world in which she simply gets promoted in a similar way to how Don Kennedy got promoted?
McKinney: It could happen.
Reagan: Is that something you would like to see?
McKinney: I don't feel like I should comment on that yet. I think we need to listen to Ms. Huggins, to our public and the trustees need to listen to each other.
The Mayor: 'John Tecklenburg is lying about me, and he knows it'
In October, the mayors of North Charleston, Charleston and Mount Pleasant held a press conference to call for clarity around the administrative leave and subsequent investigation into the recently hired superintendent, Dr. Eric Gallien. During that press conference, they called the situation a "crisis" and told the board to, quote "do their job".
They also threatened to pull their cities out of the Charleston County School District if changes were not made. McKinney says since the beginning of the year, she has met with North Charleston Mayor Keith Summey and Mount Pleasant Mayor Will Haynie.
McKinney: I called Mayor Tecklenburg's office twice and never received an appointment.
Reagan: Have you ever had a sit-down conversation with Mayor Tecklenburg?
McKinney: No, I have not. I would have valued that if he had reached out for a sit-down conversation. Mayor Tecklenburg actually called me after the press conference. And I was very upfront with him and said, Mayor Tecklenburg, this phone call is too late.
Reagan: What did you think of the press conference?
McKinney: I respect the right of the three mayors to have a press conference and make comments about the school district. I disagree with their assessment. Totally and completely. Every election cycle, my husband and I look at the issues, and the candidates decide who to support and how to vote. In the past, we have supported Mayor Tecklenburg, but Mayor Tecklenburg has led us down. He has let us down on public safety, infrastructure and development. So, this election cycle, I chose to support William Cogswell.
Reagan: Last week, Tecklenburg announced he was returning your $500 donation from 2015, calling it a rejection of Moms 4 Liberty.
McKinney: I was very surprised about that message because Mayor Tecklenburg has not reached out to me, nor has his campaign reached out to me. Maybe the check is in the mail. I don't know. I haven't received it, seen it or heard about it.
Reagan: Why do you think he's gone after you and the other four board members that tend to vote in line with you, and this idea that the board is being run by ultra-conservative Moms 4 Liberty board members?
McKinney: John Tecklenburg is lying about me, and he knows it. When I vote, I think for myself, and I vote for our students, period, end of sentence. So currently, I want to focus on the positives. This past year, our board voted for a $5,000 salary increase for our teachers. We voted for a one-time $5,000 bonus, and we voted for a very capable acting superintendent in Ms. Huggins. I think he's clouding the issues. He is absolutely clouding the issues. I think he needs to run on his own merits, not detracting from his, perhaps, lack of merits. I repeatedly and firmly say to people that Moms 4 Liberty did not fund me financially. They did not give me volunteers. They did not give me a platform to run on and they still don't. I'm very independent.
Reagan: When you hear people in the community throwing around terms like extremist and racist directed at you and your fellow board members, What goes through you?
McKinney: I would say hurt, first; anger, second; and wanting a platform, third. But as you well know, there's so much criticism that as soon as you put something in writing or speak about it, you're criticized again. I think, as far as extremist goes, people need to check the voting record of how I have voted. That's public record, either on YouTube or in writing on our district website, and they would see that I have voted in different ways. As far as being racist, I was one of the people who voted for hiring African Americans and Hispanics to help our school district. So again, if they look at the record, they'll see the truth.
Reagan: Dr. Eric Gallien publicly endorsed Tecklenburg. What did you think when you saw that?
McKinney: I was shocked at Mayor Tecklenburg doing that. I was disappointed that Mayor Tecklenburg would bring something or someone to the forefront that caused so much hurt in our community and so much division in our community. I think, as I've stated earlier, Mayor Tecklenburg is campaigning in a negative way, whereas Mr. Cogswell [is campaigning] in a positive way. I couldn't have brought forward somebody who caused so much hurt.
Tecklenburg's campaign manager, Jennifer Mieras, released the following statement late Monday afternoon:
On Oct. 2, after the first vote to suspend CCSD Superintendent Dr. Eric Gallien, the city reached out to the school district and a call was arranged between Mayor Tecklenburg and then-Chairperson McKinney, during which the mayor clearly communicated his concerns about the growing chaos being created by the Moms for Liberty faction. So, while there wasn't a face-to-face meeting, it simply isn't accurate to suggest that they hadn't discussed these issues prior to the press conference. With regard to Board member McKinney's claim that she's not aligned with Moms for Liberty, we would allow the record to speak for itself.
The Community: 'A horrible example of behavior to our students'
The school board voted on new leadership on Nov. 13 in keeping with board policy that calls for new leadership after every election. Keith Grybowski was named chair in a 5-4 vote. This comes after a year of long meetings, many fraught with public comments targeting the board members in the majority. At times, members of the audience have even been removed after refusing to yield the floor.
Reagan: How does it feel to no longer be the chair?
McKinney: I have complete faith in Mr. Grybowski. I took great pride in being able to be charged with chairing the board. Sometimes you're a leader and sometimes you're a follower and it's a tight road to walk. But I was proud to be able to serve our district that way.
Reagan: It's been a tumultuous year. What's happening?
McKinney: Public comments, transparency, and accountability are vital to me, and part of that process is allowing the public input at our board meetings. However, some of our public has chosen to abuse that privilege with disrespectful and counterproductive time during the public comment period. Worst of all, to me, it is a horrible example of behavior to our students. So, I respectfully ask the community to make a timely, respectful comment when they sign up. Secondly, in terms of leadership, we have new leadership on the board. We have acting leadership that I am thrilled about for our district. Anita Huggins is bringing the focus of where our district should be, and that's serving and educating our students. She has 26 years with the district. Her institutional knowledge is phenomenal. She's universally beloved. And she's known as a bridge builder.
Reagan: Many of those comments are going to come straight for you as the board chair. How do you get up every day knowing that you're walking into a situation where you very well may be verbally abused all day long?
McKinney: It's because education is my passion. I went to Charleston County Schools, graduated from them, taught in them and realized they need help. They need guidance from somebody who genuinely cares for the students. And understands what it is to be a teacher. That desire for our children's education in Charleston County keeps me going.
Reagan: When we look at the final decision to hire Dr. Gallien, it came down to three people. Two of the candidates had dropped out, and both of them cited their names being leaked as the reason why they pulled out. Information gets leaked all the time. What is going on?
McKinney: I do not know. All I know is that, as chair, I only called executive session when it was required. We now give almost all the information possible covered in executive sessions. I remind the trustees when they enter the room for executive session that we are in executive session because it is supposed to be confidential. And so, when people leave that room and share information, I have no idea who does it or why, or I would have addressed it as chair.
Copyright 2023 WCSC. All rights reserved.