ELECTION RESULTS: All precincts reporting in Charleston Co. runoff races
Published: Nov. 21, 2023 at 4:33 AM EST
|
Updated: Nov. 21, 2023 at 10:40 PM EST
CHARLESTON, S.C. (WCSC) - All precincts are reporting votes for the Charleston mayoral race as of 9 p.m. Tuesday.
Polls closed in the Charleston County runoff election at 7 p.m., and the first numbers began coming in shortly before 8 p.m.
Click here to see the latest election results.
Charleston mayor's race
Unofficial runoff election numbers show former state Rep. William Cogswell in the lead with 51.04% of the vote. Incumbent Mayor John Tecklenburg is trailing behind with 48.96%
In the Charleston mayoral race, election day numbers showed former state Rep. William Cogswell finished with 34.98% of the vote, almost three percentage points ahead of incumbent Mayor John Tecklenburg's 32.02%, according to the South Carolina Election Commission.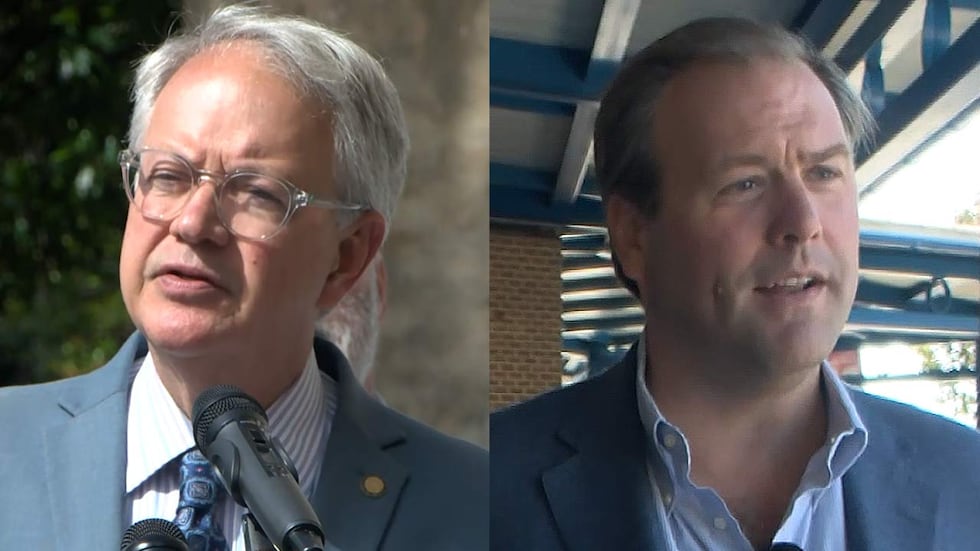 John Tecklenburg
William Cogswell
In his own words:
Public safety:
"I believe the number one job of your local government is to keep you safe."
Flooding:
"We've certainly discovered that rising sea level and stormwater is an existential threat to our city. And we're working on so many fronts to create a more resilient and safe city from stormwater and sea level rise."
Quality of life in the city:
"I'm so proud we built parks. We're going to build even more and work on our traffic and transportation as well."
Last second pitch to voters:
"I say let's continue this important work of keeping our city and community safe, of providing opportunities for our kids, of thinking about our education system as well, of protecting our city long-term from flood risks, of providing more affordable housing for our community. Those are the things I'm passionate about and working on. And I ask everyone to continue to work on those things with me."
In his own words:
Public safety:
"I think we have a lot of work to do there"
Flooding:
"I think the proper venue to go down in order to address flooding that affects the entire city, not just the peninsula. And it could be done at approach, probably a much cheaper price tag than the ultimately $2 billion or whatever it is that the Army Corps wall around the peninsula would bring."
Quality of life in the city:
"And then sound governance just basically how the city functions. I think a lot of improvements can be made. So I got in this race to run a positive campaign bring about change by bringing people together on common ground and common issues to move our city forward."
Last second pitch to voters:
"Please get out there. I mean, we've done a lot of work. You all have done a lot of work. And I think to people that if they're happy with what's been going on for the past eight years, you know who to vote for. But if you want positive change, you want to find pragmatic solutions to our problems, then I'm your guy and make sure you cast your ballot."
Current incumbent - seeking third term
Former state representative - district 110
Endorsements:
U.S. Congressman Jim Clyburn
Former Charleston County Schools Supt. Dr. Eric Gallien
Mayoral candidate Clay Middleton
City Council Ross Appel
City Council Stephen Bowden
Former Council member Paul Tinkler
Charleston Housing Authority Board Chair Herb Partlow
Mount Pleasant Mayor Will Haynie
Hollywood Mayor Chardale Murray
Endorsements:
U.S. Sen. Tim Scott
City Councilman Keith Waring
Mayoral Candidate Mika Gadsden
State Rep. Wendell Gilliard (D)
former U.S. District Attorney Peter McCoy (R)
Clay Middleton's Campaign Manager Angela Kouters
City Councilmember Peter Shahid
Professional Fire Fighters Association of SC
House Representative Mark Smith (R)
Charleston City Council District 9
Unofficial runoff election numbers show William Tinkler with 63% of the vote, while Mike Gastin has 37%.
Tinkler snagged nearly 40% of the vote on election night. His 1,305 votes were 438 more than his runoff opponent Mike Gastin who grabbed almost 27% of the vote with 867.
A win in Tuesday's runoff would be the first office for William Tinkler whose father, Paul, held the seat from 1998-2007. Tinkler, a lifelong resident of West Ashley, points to growing up in the district and watching the community grow as a reason to run.
"I see the lack of attention given to our community up close and personal," Tinkler said on his campaign website.
A runoff victory would also be the first public office held by Gastin.
Gastin points to his experience as a consultant for private businesses and his experience outside of Charleston as reasons he's qualified to lead.
"You see, I understand the wrong-headed policies that have ruined places like Chicago, NYC, and Minneapolis because I've witnessed them first hand," Gastin said on his campaign website.
Folly Beach City Council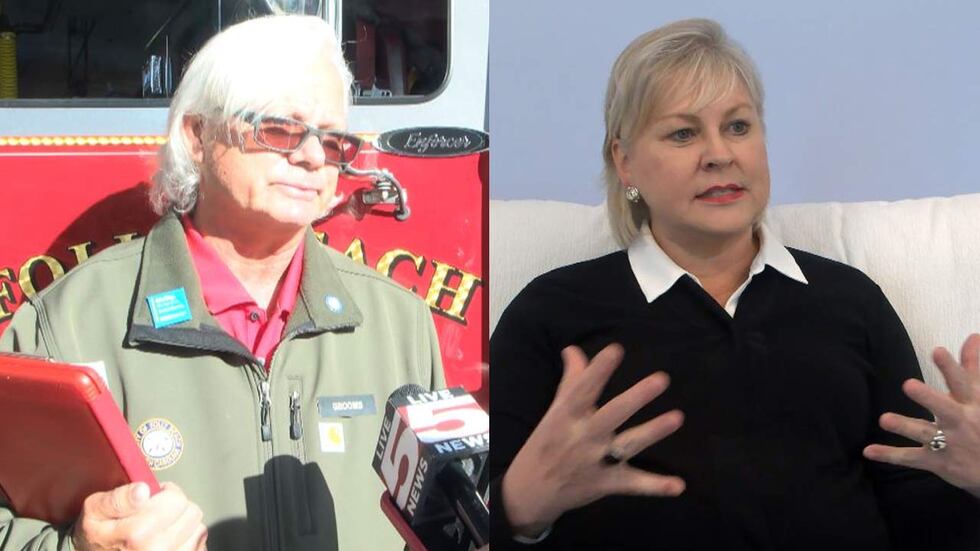 Unofficial results from the runoff election show Billy Grooms with 54% of the vote, with Ann Peets trailing behind with 46%.
In the Folly Beach City Council race, voters elected Katherine Houghton and Chris Bizzell to two of the three open seats, but a runoff between Billy Grooms, who brought in 14% of the vote, and Ann Peets, who brought in 13%, will decide which takes the third open seat.
Grooms and Peets were separated by just 29 votes.
Grooms has served for four years and says he was inspired first by his work in the city public safety department.
"I had worked recently with the city and the public safety department and I really enjoyed working with staff, and of course the residents of the city. They're really wonderful neighbors and such a caring and loving community that we do have here. And I really wanted to be a leader in that role. And so I decided on going to council to continue the happiness that we have here in the dome of delight on the beach," Grooms said.
Peets, a longtime resident, says she was inspired to take a more active role in her community this year.
"I've noticed when I've gotten more involved in the Folly Beach community, is that city council is really heavily weighted toward investor and business interests and away from residents who make up the backbone of the community. So that's why I wanted to run. If I were to be elected in this runoff, then I would basically balance the council to be three resident advocates and then three more investor business focus candidates," Peets said.
Copyright 2023 WCSC. All rights reserved.