Anchor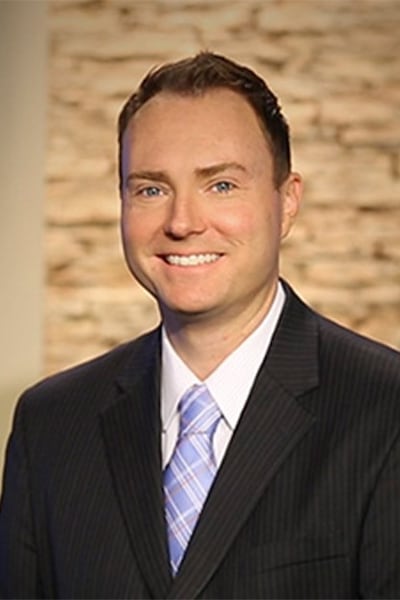 Chad Plein is a multi-Emmy Award-winning anchor who joined KY3 in 2007.
Over the years Chad has covered countless Cardinals and Royals World Series games, the Chiefs in Miami for Super Bowl 54, Missouri State in the NCAA Tournaments for women's basketball and baseball, and Drury's 2013 National Championship run. In January 2020, Chad broke the national story of Bobby Petrino taking the Missouri State University football job.
Chad's first real experience as a part of the media was as an intern for ABC News Nightline. The Midwest Bureau put Chad right in the middle of a heated home run race in September of 1998 between Mark McGwire and Sammy Sosa. Already an avid sports fan, Chad knew this was the right choice for his career.
After spending almost three years as a sports producer at KSDK (NBC) in St. Louis, Chad got his on-air start at KQTV (ABC) in St. Joseph in 2002. In 2004, when his contract as the sports director expired, Chad moved to Joplin for the same position at KOAM (CBS). After three years in the Four States, Chad moved into news accepting a weekend anchor position at KY3. For five years, Chad enjoyed touring the Ozarks to meet and tell the stories of area residents.
In 2012, when Missouri Sports Hall of Fame Legend Ned Reynolds decided to semi-retire, he hand picked Chad to fill in on the weeknight sports desk. At the same time, KY3 was launching Ozarks Sports Zone to give the station a fresh, new look at high school sports. Since then, Chad has won four Emmys as best sports anchor in the Midwest beating a close friend and mentor in St. Louis three times.
At the age of 39, Chad suffered a heart attack requiring open-heart surgery. Since then, the American Heart Association has become a charity Chad will help out with speaking engagements and fundraisers.
Giving back to his community is something important to Chad. Since arriving in Springfield, Chad has been named the Leukemia and Lymphoma Man of the Year in 2012 for his fundraising efforts and recognized in the Springfield Business Journal's 40-under-40 in 2014. Chad's wife Cati helped GYN Cancers Alliance raise money when she was recognized in 417 Magazine's 10 Most Beautiful Women of 2015.
Chad and Cati were married in 2004 and have two children, Coy and Chyler.
Education
St. Louis University
Updated: Jun. 2, 2023 at 11:31 PM EDT
|
An Arkansas woman was recently reunited with her high school ring that had been lost more than 30 years ago in Charleston, one of two incredible finds in her family.