Santa Claus stamp brings mail to town
Published: Dec. 16, 2011 at 9:24 PM EST
|
Updated: Dec. 18, 2011 at 4:00 PM EST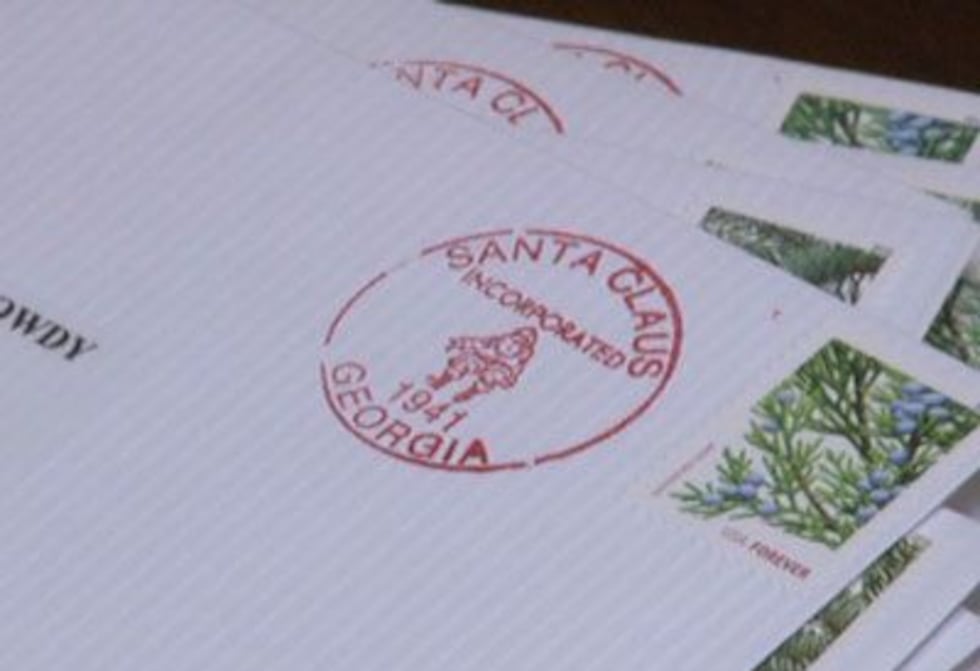 SANTA CLAUS, GA (WTOC) - More than 1,000 cards and letters go through the town of Santa Claus, Ga., each December. That's impressive for a town of 120 residents.
Katherine Gleghorn, clerk for the city of Santa Claus, went through what may be the only good kind of "red ink". She pressed a stamp into a pad of crimson ink to apply the city's Christmas-themed seal onto more than a 100 pieces of mail.
People bring plenty of Christmas cards and letters to get an unofficial postmark from the city of Santa Claus.
"We've seen people this year from New Jersey and Maryland. We have friends that come in from Baxley to St. Simon's and Brunswick area," Gleghorn explained.

Plenty of tourists stop in the town along U.S. Highway 1 on their way to Florida to get the stamp. After applying the stamp, the clerk takes the mail to the nearest post office in Lyons.
They've stamped more than 1,000 pieces of mail each of the past few Christmas seasons. Most people stop for pictures with street signs such as December Street and Noel Drive and the decorations, most of which stay up year round.
"I reckon it's what you call seasons greetings or doing something for your fellow man," noted Mayor Earl Horton. "A lot of people have asked us how much do they owe and we say, 'You don't owe us anything, just have a Merry Christmas.'"
The mayor and the clerk hope the stamp on each Christmas message helps it carry just a little more holiday cheer.
Anyone who wants the stamp on Christmas mail for this year has until Dec. 23 to drop off the mail at Santa Claus City Hall at 25 December St.
Copyright 2011 WTOC. All rights reserved.