Authorities capture Live 5 Most Wanted fugitive wanted for reckless homicide
Published: Apr. 18, 2012 at 7:01 PM EDT
|
Updated: May. 4, 2012 at 9:33 PM EDT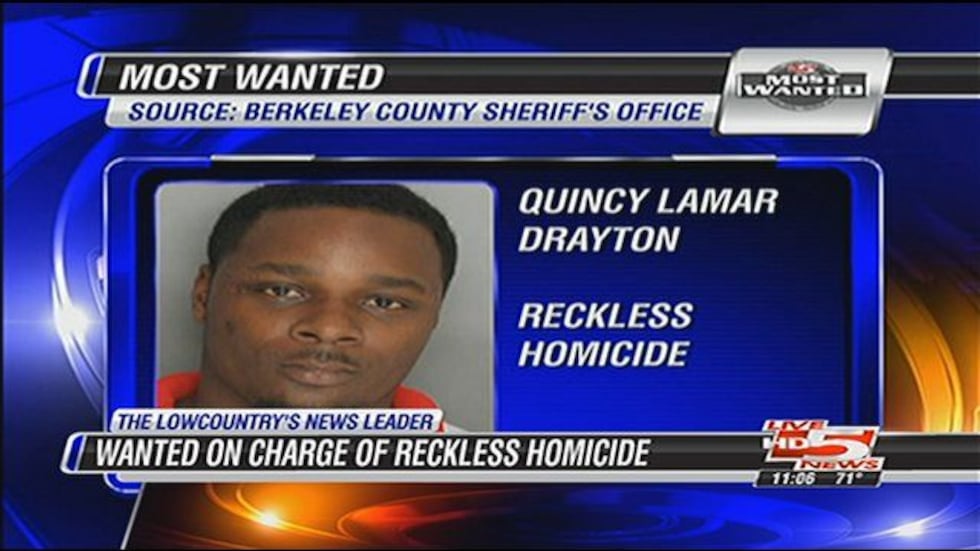 BERKELEY COUNTY, SC (WCSC) - The Berkeley County Sheriff's Office says a man wanted for a reckless homicide in Goose Creek is now behind bars.
Authorities say 25-year-old Quincy Lamar Drayton was locked up at the Hill Finklea Detention Center.
Drayton was wanted on a charge of reckless homicide in connection with a fatal accident last year.
"He was involved in a wreck on Redbank Road in Goose Creek back in September of last year," said Berkeley County Sheriff's spokesman Dan Moon."Some witnesses say he was speeding down Redbank Road. He lost control of the vehicle, crashed into some trees."
Moon said at first, Drayton was charged with dui involving great bodily injury. When the passenger died, the charge was upgraded to reckless homicide.
Moon said Drayton managed to bond out of jail but never showed up for court.
"A bench warrant for his arrest was issued in January of this year and we've been looking for him ever since," Moon explained. "To put your life at risk and their lives at risk and in this case it was more risk, a death occurred and that's a sad, sad situation, it really is."
Copyright 2012 WCSC. All rights reserved.