Cops: Bullet casing falls out of suspect's rear end during search
Published: May. 3, 2012 at 6:16 PM EDT
|
Updated: May. 3, 2012 at 8:14 PM EDT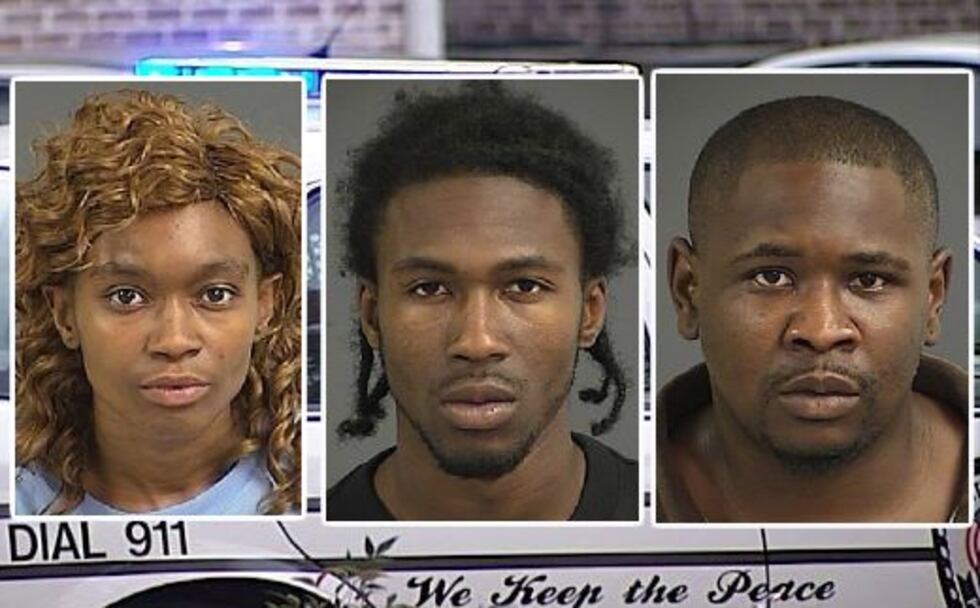 NORTH CHARLESTON, SC (WCSC) - Police say a spent bullet casing fell out of a drug dealer's rear end during a strip search.
Authorities say the bullet fell out of 25-year-old Nathaniel Whack Jr. during a strip search after police arrested him following a shooting incident in North Charleston.
On Wednesday night, officers responded to the area of Madden Drive regarding shots being fired. Officers were told that six people were fighting in the middle of the road and that some of them were attempting to take a handgun from a man.
As police arrived on the scene, a burgundy Hyundai Sonata and a silver Nissan Altima were seen speeding off. Police then stopped both vehicles at Accabee Road and Ferrara Drive where the drivers and passengers of both cars told officers that they had been shot at.
The female passenger of the Hyundai told officers that she knew who was behind the shooting.
The woman said that a home she used to live at on Stokes Avenue had been shot up in late April by some friends of a woman known as Johnte. The woman said she had been involved in an altercation with Johnte's brother and he knew that she used to live at an apartment on Stokes Avenue.
According to the woman, ever since the shooting incident, she had been receiving threats from Johnte saying that there was more violence to come.
According to the woman, she received information from Johnte on Wednesday that she was going to be at an address on Madden Drive. The woman told investigators she gathered up some friends and went to Madden to confront Johnte to draw the ongoing "altercation to a conclusion," according to a police report.
Once officers had narrowed down the incident location to a home on Madden Drive, police responded to the home and made contact with Takasha Pete and a man she was with. Both said there was an altercation outside of the home but they were not involved in the incident.
When officers asked Takasha Pete about a black Kia at the home, Pete said it had been there all day and had not been moved. Police say both the tail pipe and the hood of the Kia were hot to the touch. When officers asked Pete about the condition of the car, Pete said it was news to her.
The owner of the Kia, Johnte Sparkman, then arrived on scene and told officers that her vehicle was not involved in any illegal activity in any way and gave officers consent to search her vehicle.
Officers say when they opened the Kia's glove compartment, they discovered a large quantity of green plant like material, weighing 15 grams that tested positive for THC, and located a digital scale next to the marijuana.
Sparkman was then taken into custody since she was the registered owner of the vehicle. A witness then told police that he saw the entire incident and said that a man with a gun went into Pete's home before officers arrived.
When police asked Pete who was in the home, she said that there were only three children inside and no one else.
According to investigators, Pete then said that there was no way that any officers were going to step foot in her home and started to walk away and ignored officers' requests to return to the front of the yard. Pete was then placed in one of the patrol vehicles.
Officers then asked the man who was with Pete to call the children out of the home and into the yard. Once the children were outside, officers asked the man if there was anyone else inside the home, to which he replied no. When the children heard the question, one of them said that there were two men in the back bedroom watching TV.
Investigators say they then set up a perimeter and called the two men to the front door. An incident report states that Nathaniel Whack and Pierre Pete came out and were arrested.
Officers say they then went inside of the house to conduct a protective sweep to make sure that there was no one else inside the home. While inside, officers say they detected an odor of marijuana and saw several partially smoked marijuana cigarettes in an ashtray.
Police say when the officers went to clear the attic, they removed a board that was covering the attic's entrance and saw the barrel of a gun. Officers say they saw three black handguns, two semi automatics and one revolver in the attic.
Officers left the home and called out for a search warrant.
While officers were waiting for the search warrant, officers began to conduct interviews with Whack, Pete and Sparkman. Police say during the interviews, it was discovered that Whack and Pete had been in the Kia and the marijuana belonged to them. Sparkman was then released.
When detectives and the search warrant arrived, investigators recovered the handguns from the attic. The first gun was a loaded black Sentinel R-100 .22 caliber with two spent casings. The second gun was a loaded glock model .40 caliber gun which was reported stolen from a former Richland County Sheriff's deputy.
The third handgun was a loaded Taurus Model PT 738 .380 caliber gun which was reported stolen from Mount Pleasant.
During the course of the investigation, it was learned that Pierre Pete knew about the glock and was aware of its location in the home. Officers say Takasha Pete denied all knowledge of the handguns and "seemed baffled that they were in the home."
Whack said he knew "nothing about anything except the marijuana."
Whack and Pierre Pete were both charged with possession with intent to distribute marijuana. Pete was also charged with possession of a stolen pistol.
Takasha Pete was charged with two counts of possession of a stolen pistol since the weapons were found in her home. All three suspects were locked up a the Charleston County Detention Center.
A police report states that as officers were conducting a strip search at the detention center, a spent Brass Winchester shell casting fell out of Whacks' rear end.
Copyright 2012 WCSC. All rights reserved.